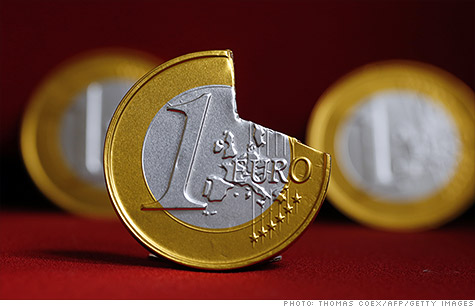 NEW YORK (CNNMoney) -- As European leaders meet to discuss the future of the euro, economists think the ongoing crisis will lead to big changes for the common currency.
Nearly half of the 22 economists surveyed by CNNMoney expect at least one country to pull out of the eurozone, and most of them think two to four countries will leave. One respondent is forecasting five to seven departures.
The economists also believe that the eurozone crisis will reach far beyond the European borders. Half said that Europe's problems are the most serious threat to the U.S. economy.
The biggest threat from Europe is a freezing of financial markets around the world, according to 10 of the economists surveyed. Another five are worried about a European recession cutting demand for exports from the rest of the world. And seven expect multiple problems, including widespread bank failures.
"A freezing up of credit markets, similar to that following the failure of Lehman Brothers in 2008, would cause the most immediate harm to the global economy," said Lynn Reaser, chief economist at Point Loma Nazarene University.
"However, widespread banking losses and failures could ensue and a sharp drop in European demand could severely damage emerging market economies," Reaser said.
None of the economists predict there will be a complete breakup of the euro, as all of them said that the majority of EU residents will remain on the common currency.
Despite the unpopularity of austerity programs in poorer countries and greater fiscal union in wealthier nations, the economists believe European leaders will eventually support steps needed to preserve the euro.
"It may take an exit of a country to 'scare straight' the remaining members of the euro," said Sean Snaith, economics professor at University of Central Florida.
"Fear, as it turns out, is a great motivator and seeing the aftermath of a country or two exiting from the euro may be the scare that remaining members need to make the difficult changes that salvation of the euro will require."