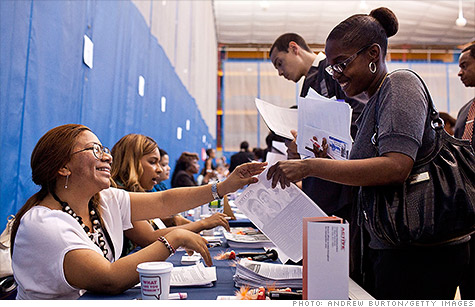 Jobless claims have been in the 380,000 range for four straight months.
(NEW YORK) CNNMoney -- The number of Americans filing for first-time unemployment benefits fell last week, after matching the highest level of the year the week before.
About 386,000 people filed for initial jobless claims in the week ending June 23, down 6,000 from the revised 392,000 the week before, the Labor Department said Thursday.
The 392,000 claims in the June 16 week matched the high for the year, set the week ended April 21.
The four-week moving average fell to 386,750 from the previous week's revised average of 387,500. Initial claims are a volatile number, which is why economists often look to a four-week average to eliminate some of the choppiness. (Read: Unemployment benefits whittled down)
Jobless claims as an important economic indicator, and a good gauge of the job market because of their close correlation to layoffs.
Jobless claims have been in the 380,000 range for four straight months, indicating that there hasn't been much progress since claims fell at a faster rate during the first three months of the year. (Read: How Congress is hurting jobs)
Economists say that worry over the eurozone crisis, and impending spending cuts and tax-rate hikes in the United States have put pressure on the labor market.
"The numbers seem to be stuck at an uncomfortably high level, which supports the view that job growth is slowing," said Jennifer Lee, senior economist at BMO Capital Markets. "With so much uncertainty out there with European debt crisis and the fiscal cliff issue in the U.S., until they (employers) see some of the cloud lifting, the numbers are not going to get higher."

Lee doesn't anticipate the numbers improving anytime soon.

"These issues are not going to be solved in a day or a week," she said. "We're not going to see much change in the coming months, which will act as a break on the U.S. economic recovery."