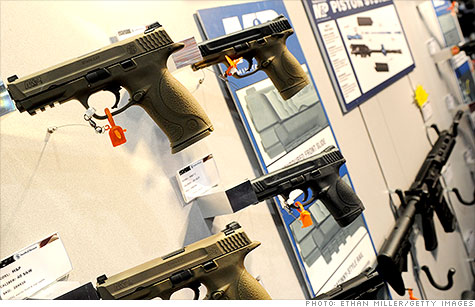 Smith & Wesson stock surged after gun maker reports strong earnings, driven by sales of compact polymer guns.
NEW YORK (CNNMoney) -- Do you feel lucky, punk? If you're a gun manufacturer named Smith & Wesson, the answer is a resounding "Yes!"
Smith & Wesson's (SWHC) stock surged 16% Friday, a day after the company reported unexpectedly strong earnings.
Smith & Wesson reported a 20% increase in net sales to a record $412 million for its full fiscal year, which ended April 30.
Chief Executive James Debney attributed the increase to strong firearms sales, particularly its Military & Police (M&P) series of polymer pistols and sporting rifles. Sales of the gunmaker's newly released M&P Shield, a compact polymer pistol, has been "fantastic," he said in a statement.
The company also reported a rise in income from continuing operations to a $26 million, or 40 cents per diluted share, for the fiscal year.
Jeffrey Buchanan, chief financial officer, said the company was able to expand capacity during the year and pay off $30 million worth of debt with the help of an existing line of credit.
The good news for Smith & Wesson spilled over to another U.S. gun maker, Sturm, Ruger & Co. (RGR), whose stock rose 7.5% Friday.
Smith & Wesson forecast sales from continuing operations will expand by 36% in the current quarter and jump 17% for the year.
Cowen & Co. analyst Cai von Rumohr said that future sales are heavily dependent on presidential politics. In a research report, he said demand for firearms could slow down if Republican nominee Mitt Romney wins, "but it could remain strong if Obama wins as gun buyers may fear tighter gun controls in his second term."
Smith & Wesson, based in Springfield, Mass., is a venerable American company that's been around since the cowboy days. Founded in the 1850s, the brand is firmly embedded in American culture.
In the popular 1970s action flick "Dirty Harry," the titular character played by Clint Eastwood uses a .44 magnum revolver made by Smith & Wesson, which cop character Harry Callahan refers to as "the most powerful handgun in the world." The gun used in the movie is now on display at the National Rifle Association's museum.