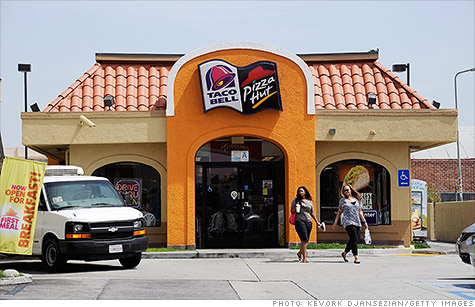 (MONEY Magazine) -- As the parent company of fast-food chains Kentucky Fried Chicken, Pizza Hut, and Taco Bell, Yum Brands has grabbed a piece of the best growth story of the decade.
When demand for the staples of Fast Food Nation slowed at home, Louisville-based Yum (YUM, Fortune 500) turned to China, which now accounts for nearly half of company sales.
This success has led to a 72% jump in the stock price over the past two years. As China's boom shows signs of slowing, Yum is hoping for a second serving of growth from other emerging markets.
Chinese menu: Eateries in China account for a bigger portion of sales and profits. In the first quarter of 2010, 34% of the company's sales came from China. In the first quarter of this year, the share of sales in China grew to 45%.
Yum's 4,500 restaurants in China are dwarfed by the 18,000 in the U.S., but profits per store top $200,000 a year, vs. less than $33,000 per store at home. China serves up nearly half of total sales and 62% of restaurant profits. By creating a menu designed for local tastes and selling chicken, a protein favored by residents, KFC, in particular, has flourished.
With economic growth in China expected to drop to 8% this year, a dip from the 10% annual GDP gains of the past decade, the gravy train could slow.
Yet fast food is a luxury that only the most affluent of China's 1.3 billion residents can afford, and a slowdown should have little impact on those diners. Plus, Yum is adding at least 10% more restaurants in China every year.
Cash cow: While Yum is shedding U.S. stores, franchises still serve up lots of cash. Total U.S. sales fell to $3 billion in 2011 from $3.7 billion in 2009. Meanwhile, income from franchising and fees in the U.S. grew to $786 million, up from $735 million over the same period.
In the U.S., Yum has struggled. With more than 150,000 competing fast-food joints and entrées that competitors can easily copy -- have you noticed the glut of chicken sandwiches? -- sales are down 20% since 2009. The region accounts for just 30% of revenue.
In response, Yum is shedding company-owned stores in favor of franchises. It will decrease ownership in Taco Bell, the most profitable Yum restaurant in the U.S., from 22% to 16% by 2014, while slimming stakes in Pizza Hut and KFC to 5%.
This allows Yum to "essentially get an annuity" from franchises while allocating resources elsewhere, says Morgan Stanley managing director John Glass. The only downside: Yum will benefit less if U.S. sales rebound.
No value meal: Yum's stock is pricey, but its global McRival earns far less from China.
With a P/E ratio of 20.7, Yum shares are expensive compared with the overall market. McDonald's, Yum's biggest competitor, is cheaper too with a P/E of 15.7.
But while McDonald's is pushing Big Macs hard in China, emerging markets in total account for 25% of its profits. Yum gives investors a bigger bite of China, where "the opportunity remains vast," says Glass, "regardless of the economy." India, where Yum has just under 500 stores, could provide another boost in the coming years, and Yum has little competition there besides Domino's Pizza.
Still, fears of a hard landing in China could drag down Yum's stock, says Morningstar analyst R.J. Hottovy. Even though Yum is a good long-term holding, he adds, "I'd wait for a better opportunity to get in."