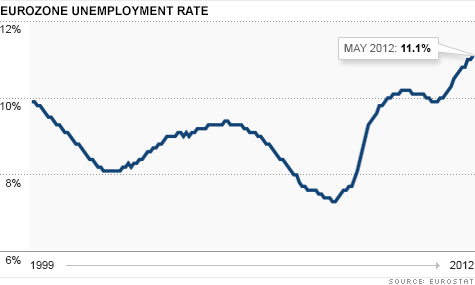 The eurozone's unemployment rate rose to 11.1% in June.
NEW YORK (CNNMoney) -- Reports on Europe's job market and manufacturing sector both show the region's economic woes persist.
The unemployment rate in the eurozone's 17 nations rose to a record 11.1% in May, the highest level since the euro launched as a common currency in 1999.
In the broader 27 nations that make up the European Union, the unemployment rate remained at 10.3% -- the same as in May, the statistical office of the European Union, Eurostat, said Monday.
Roughly 25 million people were unemployed in the EU in May. Spain alone is home to more than a fifth, or about 5.7 million of those unemployed workers.
Spain's unemployment rate is 24.6%. the highest in the region.
Separate data also released Monday show eurozone factories continue to sputter.
Manufacturing activity has been contracting for 11 straight months in the region, according to Markit's Purchasing Managers' Index. At 45.4 in the second quarter, the PMI was at its lowest reading since 2009. Any reading below 50 signals contraction in the sector.
All nations except Ireland signaled job cuts at factories.
"Companies are clearly preparing for worse to come, cutting back on both staff numbers and stocks of raw materials at the fastest rates for two-and-a-half years," said Chris Williamson, Chief Economist at Markit.
The weak data are likely to be a top concern for the European Central Bank, which meets Thursday. The central bank held rates steady at its last meeting but is widely expected to cut them this week.