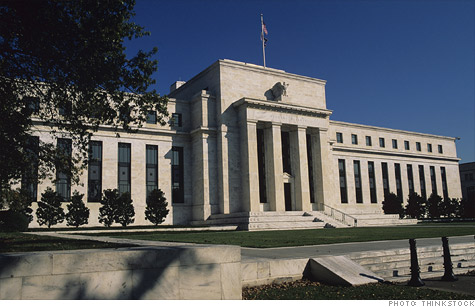 The Federal Reserve is releasing snapshots of living wills for the largest banks doing business in the United States.
WASHINGTON (CNNMoney) -- Regulators took another step toward ending the era of "too big to fail" Tuesday, releasing so-called living wills, guidelines for unwinding nine of the largest banks doing business in the United States.
Banks on Monday had to give regulators copies of their living wills, which will guide regulators on how to resolve a failing but systemically important bank. The Federal Reserve and Federal Deposit of Insurance Corp. released the summaries of these living wills for the megabanks.
The living wills are supposed to spell out exactly how regulators would halt business operations and sell parts of the bank should the bank spiral downward the way Lehman Brothers or Bear Stearns did in 2008.
The banks generally state in their resolution summaries that -- in the unlikely situation they don't have enough capital in subsidiaries to cover claims -- money could be raised "by divesting in any of our lines of business," as the summary for JPMorgan Chase stated.
However, the juicier details about which subsidiary or business line would get sold first are considered proprietary by banks. Regulators have agreed to keep those details secret.
Federal Reserve Board Vice Chairman Dan Tarullo told lawmakers last month that he hopes the the living wills will reveal what holes remain in ending the era of too big to fail.
"We're not just going to be able to say, gee, if something bad happens on Thursday, will they be able to resolve by Monday morning?" Tarullo said during a Senate Banking Committee hearing in June. "I think we're going to need to ask ourselves whether the drafting and review of the resolution plans shows us that there are structural elements or features of the organization that could be an impediment to achieving that."
The nine banks that were first to turn in their wills have more than $250 billion in assets. U.S. banks in the group are Bank of America (BAC, Fortune 500), Citigroup (C, Fortune 500), Goldman Sachs (GS, Fortune 500), JPMorgan Chase (JPM, Fortune 500) and Morgan Stanley (MS, Fortune 500). International banks that also had to submit living wills are Barclays (BCS), Credit Suisse (CS), Deutsche Bank (DB) and UBS (UBS).
By December 2013, some 125 banks will have given regulators living wills, according to an FDIC official.
Last fall, the rating agency Moody's cited the impending living wills as a major reason to downgrade big banks, saying that Wall Street reforms ushered in by Dodd-Frank made it more likely big banks will fail.
Democrats and Republicans supported the main goal of the Dodd-Frank Act: to stop future taxpayer bailouts of failing Wall Street banks by giving the federal government better tools to unwind giant banks instead of propping them up.
But in the nearly two years since Dodd-Frank became law, some economists and banking analysts have questioned how effective Dodd-Frank can be.
Since it only governs the U.S. financial system and the biggest banks cross international borders, Dodd-Frank might not be able to prevent a failing big bank from threatening the global financial system, critics say.
Last month, regulators also released new rules governing how big the capital cushions should be at the biggest U.S. banks to help them weather financial turmoil.