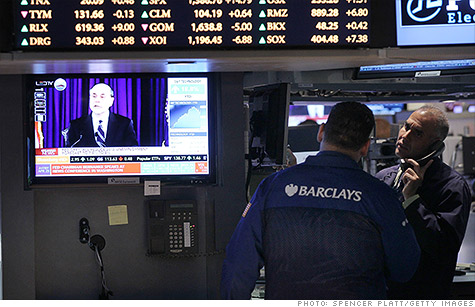 "Hello, Ben? I hate to ask, but can you send some more of that stimulus money this way?"
NEW YORK (CNNMoney) -- The stock market should be doing worse when you look at how poor the economy is. But traders are excited for the strangest of reasons. By now it's been accepted as normal, but make no mistake about it, its absurdity is Kafkaesque.
Things are so bad that Wall Street once again expects the Federal Reserve to save the day.
Stocks were mixed Monday despite a report showing that manufacturing activity unexpectedly contracted in June for the first time in nearly three years. And the market rallied during the abbreviated day of trading Tuesday.
Despite the fact that the weakness in manufacturing shows that the U.S. economy is up on blocks like a rusted '76 Coupe DeVille, some traders think this is "good" news because it will prompt more stimulus from the Fed.
I'm certainly not the first to point out how silly it is that Wall Street celebrates bad news. But on this Independence Day, as the political rhetoric grows louder with the approaching election, I've gotten ever-more sensitive to it.
For all its effort, Wall Street just can't seem to pull itself up by its own bootstraps to succeed. It needs the Fed's help. It's stuck in a cycle of welfare-like monetary policy.
It's ironic (and even a bit hypocritical) considering that many leaders on Wall Street and in Corporate America in general tend to me more politically conservative. Many business leaders are arguing for a freer market and less federal regulation of banks.
Too much government! Not enough "accountability!" It's about repealing "Obamacare" or cutting back on food stamps. People should fend for themselves.
Is it fair then that Wall Street banks -- those supposed free market advocates -- should continue to rely on the Fed's charity while their political proxies in Washington fight to hack away at the assistance that so many American families need in order to get by day to day? No. It is not.
To be fair, not everyone working on Wall Street is in favor of smaller government. And some uber-conservative Tea Party types and Libertarians don't think the Fed should be helping the market at all ... because they want to completely abolish the Fed.
Now that position is a bit extreme. And I am not saying that the Fed should sit back and do nothing and let the market completely fend for itself.
But for the many conservative, pseudo free-marketers on Wall Street who continue to look to the Fed for assistance -- and the lawmakers who represent them -- here's what I'd like:
Ratchet back your fight against the poor. Stop threatening to take away government assistance from people who need it to buy groceries, or so their kids can eat lunch at school or go get a medical check-up.
Quit saying that people should "pull themselves up by their own bootstraps" without taking a look at just how much the banks depend on government "handouts."
Sometimes things get really, really, dire and -- just like Wall Street -- people need their government's help in order to get by.
Let's remember on this Fourth of July that it's our government's central role to offer that assistance, whether it is to help buoy the wealthiest in our economy or to help needy families stay afloat.
The opinions expressed in this commentary are solely those of Octavio Blanco.