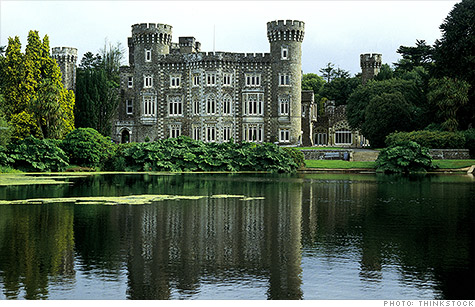 The Irish government raised 500 million euros, or $626 million, by selling 3-month Treasury bills at a yield of 1.80%.
NEW YORK (CNNMoney) -- Ireland rejoined the bond market Thursday with its first debt sale since its bailout in 2010, a promising step in its return to the capital markets.
The government raised €500 million, or $626 million, as planned. Ireland sold 3-month Treasury bills at a yield of 1.80%. The Dublin-based National Treasury Management Agency (NTMA) said it received €1.4 billion, or $1.8 billion, in bids, an indication of healthy demand.
"We are encouraged by the strong demand, the competitive interest rate and the presence of significant international interest in today's action," said John Corrigan, head of the NTMA. "However we are conscious that this only the first step towards our ultimate goal of full access to the capital markets."
Ireland received an €85 billion bailout in November 2010 from the European Union, the International Monetary Fund and three nations: the United Kingdom, Denmark and Sweden.
While investors view Ireland's willingness to rejoin the bond market as a positive sign, Thursday's auction only covers a small portion of the Irish government's financing needs, warned Ben May, European economist at Capital Economics.
"It's encouraging to see Ireland is trying to get on top of its problems, but the hope is that this is the first step to something bigger," May said. "Investor confidence in Ireland will only hold if it can issue bonds for a sustained period, and with a much longer maturity than three months."
While Ireland's destiny is mostly in its own hands, its fate will also depend on how economies fare elsewhere in the region.
If Greece ends up leaving the eurozone, or Spain falls into deeper trouble, May said yields in Ireland may jump back up again and derail any progress the nation has made.
The yield on benchmark Irish 10-year bonds is currently 8.2% That is obviously very high, but it is down significantly from levels of more than 14% a year ago.
On Thursday, the European Central Bank lowered interest rates to all-time lows but did not introduce any unconventional moves to stimulate economic activity in the cash-strapped region.