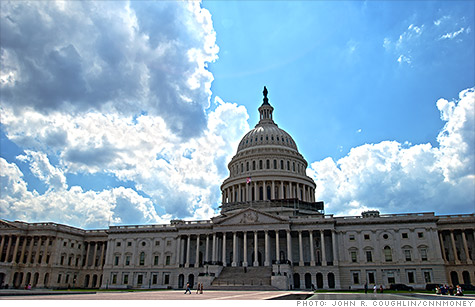 Until lawmakers get serious about cutting a bipartisan deal to address the fiscal cliff, the forecast for jobs will remain cloudy.
NEW YORK (CNNMoney) -- House Republicans blame the disappointing June jobs report on President Obama's "failed policies." Senate Democrats blame Republicans for engaging in "empty, partisan exercises that will not create one job."
And neither party in Congress appears ready to do the one thing experts say Congress could do to improve the outlook for jobs -- cut a bipartisan deal on the "fiscal cliff."
The fiscal cliff represents trillions of dollars in poorly conceived spending cuts and tax increases that start to go into effect in January.
Lawmakers can't control for all the potential headwinds that can hurt hiring -- such as the turmoil in Europe or the pace of economic growth globally.
But they can choose to clear up the uncertainty about U.S. fiscal policy. Problem is almost no one expects them to do so before the November elections. (Read more: Fiscal cliff recession fears)
"The biggest fear at the moment is that Europe will unravel, but concern that policymakers may let the nation go over the fiscal cliff is mounting," said Mark Zandi, chief economist of Moody's Analytics.
Experts say fiscal cliff uncertainty will have an increasingly negative influence on the economy.
In fact, some big defense contractors likely to be hit by the scheduled spending cuts have already said they have slowed, if not stopped, hiring.
The government reported Friday that the economy created 80,000 new jobs in June, well below forecasts. That came on the heels of a lackluster report in May. An unseasonably warm winter -- which led to stronger-than-expected jobs growth at the start of the year -- is often cited as a reason for the spring drop off.
But that justification may soon expire.
"The longer jobs growth stays in this subdued range ... the more likely it is due to the more persistent issues of concerns over the global economy and the fiscal position at home," according to Capital Economics.
Whether fiscal cliff uncertainty played any role in the June jobs number is too hard to suss out. But "firms are being very careful about adding new full-time employees," Nigel Gault, chief U.S. economist of IHS Global Insight, wrote in a research note.
"Uncertainties over the strength of global growth, the Eurozone crisis, the fiscal cliff and the November elections are giving plenty of reasons for caution," Gault added.
Indeed, said Zandi: "The job market isn't going to kick into high gear until Europe's problems and our fiscal issues are [better] nailed down."