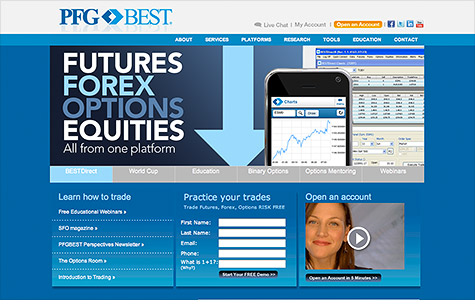 The National Futures Association has frozen the accounts of PFGBest, a brokerage accused of misappropriating funds, and the Commodity Futures Trading Commission has filed a complaint.
NEW YORK (CNNMoney) -- Accounts of futures brokerage PFGBest have been frozen by the National Futures Association, which says the firm has insufficient funds to carry out its trades.
In addition, the Commodity Futures Trading Commission filed a complaint on Tuesday, accusing the Peregrine Financial Group -- the operator of PFGBest -- and its owner, Russell Wasendorf Sr., of committing fraud by misappropriating funds and falsifying bank records.
In the complaint, the CFTC said that Wasendorf attempted suicide Monday. A spokeswoman for Peregrine said Wasendorf was alive, but in critical condition.
The commission said it is seeking a restraining order to freeze assets.
The National Futures Association, which regulates the futures industry, said it took an "emergency enforcement action" against Peregrine Financial Group and affiliate Peregrine Asset Management, after the amount they reported on deposit at U.S. Bank (USB, Fortune 500) was about $200 million more than was actually held by the bank.
The regulator said it blocked the companies from handling trades because the Peregrine companies have failed to demonstrate that they meet capital requirements and segregated funds requirements. The association also said it has reason to believe that Peregrine does not have sufficient assets to meet customer obligations.
The futures association said the Peregrine companies, based in Cedar Falls, Iowa, and Chicago, are prohibited from accepting new clients and cannot accept or place trades "except for the liquidation of existing customer positions."
In addition to lacking enough money to conduct trades, the association said that the chairman of the Peregrine companies might have falsified bank records.
On the PFGBest website, Wasendorf is listed as the chairman, CEO and founder of the company.
The PFGBest incident comes less than a year after high-profile brokerage MF Global got into big trouble for allegedly misappropriating money.
Former MF Global customers have claims of about $1.6 billion against the commodities brokerage, which filed for bankruptcy last year. The trustee in charge of recovering the lost cash is targeting former chief executive officer Jon Corzine, the former governor and senator from New Jersey, in its efforts to recover lost funds.
-- CNNMoney reporter James O'Toole contributed to this report.