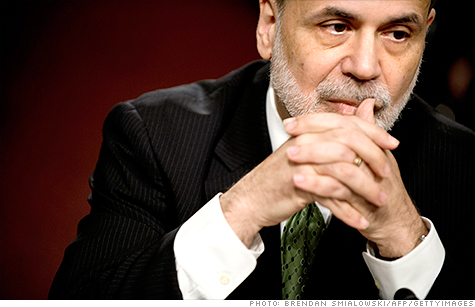 Experts cheer the Fed's move to extend Operation Twist and are banking on QE3.
NEW YORK (CNNMoney) -- Is more stimulus on the way from the Federal Reserve? Wall Street sure thinks so.
In fact, nearly two-thirds of the 30 investment experts surveyed by CNNMoney agree that the Fed's latest move to extend its so-called Operation Twist policy was warranted. The same group also thinks the central bank may reconsider a third round of asset purchases, a policy known as quantitative easing or QE3, if the economy and financial markets deteriorate further.
The tone has shifted from the start of the year, when experts wanted the Fed to reserve QE3 as a "last resort," citing an improving job market and strength in the manufacturing sector. Of course, both of those catalysts have since reversed course, prompting the renewed calls for QE3.
Reports last week showed that U.S. manufacturing activity contracted for the first time in almost three years, while hiring remained sluggish for a fourth straight month.
"Extending Operation Twist was a less overt move for the Fed to keep interest rates low, but I think economic conditions are moving in a direction that it could become necessary for the Fed to pump money into the system in a more obvious way through QE3," said Tom Schrader, managing director at Stifel Nicolaus.
Calls for more stimulus are also growing louder among Fed officials, a sign that the odds of QE3 are increasing, said Brian Gendreau, market strategist at Cetera Financial Group.
While speaking earlier this week in Idaho, San Francisco Fed president John Williams said it is essential that the central bank provide "sufficient monetary accommodation to keep our economy moving toward our employment and price stability mandates."
While admitting that the extension of Operation Twist, a program that swaps short-term bonds for longer-term U.S. Treasuries, will only have a "modest impact on the economy," he reiterated that the Fed is prepared to take further action.
"[The] most effective tool would be additional purchases of longer-maturity securities, including agency mortgage-backed securities," Williams said.
Schrader thinks the Fed could announce QE3 as soon as Aug. 1, when it winds up its next two-day meeting, in order to keep enough distance from November's presidential election, when it could be perceived as political maneuvering. Otherwise, the Fed will likely wait until its final meeting of the year in early December.
While most experts are looking for the Fed to announce QE3 if economic data continue to point toward a slowdown, a handful want the Fed to stand down.
"The markets are completely dependent on the zero interest rate policy and the continued liquidity injections," said Dan Morris, chief investment officer at Morris Capital Advisors. "I believe that our economy and the markets will not be able to recover properly as long as they are dependent on the Fed's life support and as long as the Fed continues to find ways to artificially extend these policies."
Rather than more stimulus juice from the Fed, those experts say what the market really needs is more confidence in Washington lawmakers to do what it takes to avoid the fiscal cliff.
Still, whether or not the Fed's intervention is the right dose for the ailing economy and financial markets, the fact is that it's become psychologically important for investors, said Adrian Day, president of Adrian Day Asset Management.
"The market is expecting further Fed action, and now it needs it for a sustained rally," he added.