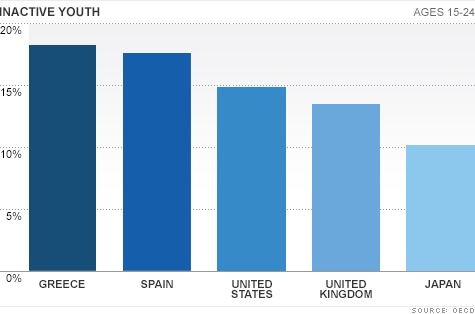 Youth neither in employment nor in education or training (NEET rate), ages 15 to 24 in 2011.
NEW YORK (CNNMoney) -- As the jobs crisis drags on, high unemployment could permanently damage the economic prospects of the world's youngest workers, the Organization for Economic Co-operation and Development (OECD) warned Tuesday.
A lack of jobs for workers ages 15 to 24 could create a "scarring effect" on their long-term career paths and future earnings prospects, the OECD said.
Last year, about 18.6% of youth were neither employed nor in school or training programs across the OECD's 34 countries, the think tank said.
In the United States, that percentage was 14.8%.
Besides the United States, the OECD represents Japan, Mexico and much of Europe.
It predicts the unemployment rate across those countries will fall no lower than 7.7% by the end of 2013 -- barely an improvement over its current 7.9%.
Youth workers, it warned, are bearing the brunt of that crisis.
"It is imperative that governments use every possible means at their disposal to help jobseekers, especially young people, by removing barriers to job creation and investing in their education and skills," said OECD Secretary-General Angel Gurría, presenting the report in Paris.
The OECD urges employers and policymakers to create more work-study programs, including internships and other vocational training programs to address the problem.