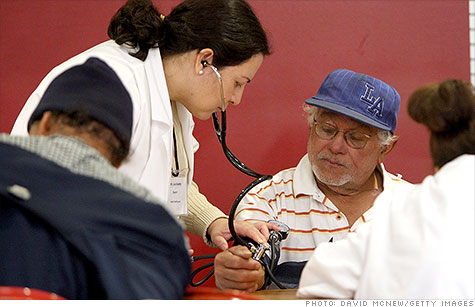 There are many reasons health costs keep going up. Bigger ticket items in hospital care and doctor visits are among the reasons why.
NEW YORK (CNNMoney) -- Health care reform will help millions more Americans get insurance.
But experts say the Affordable Care Act itself won't stop the cost of health care from continuing to rise and consumers from paying bigger bills.
Insurance premiums -- the monthly fees consumers pay to get coverage -- continue to rise much faster than the 2% rate of overall inflation. In 2011, average premiums rose 8% for individual coverage and 9% for family coverage, according to the Kaiser Family Foundation.
There are many reasons costs are going up; some apply to all patients, and others only to patients who get insurance through big insurance plans. But experts identify six main drivers.
Hospital care: Hospital care accounts for nearly one-third of the nation's annual health care expenditures.
According to the American Hospital Association, factors driving up hospital costs include the rising cost of goods and services used for patient care -- such as workers, equipment and information systems. Other factors are rising demand for care and compliance with regulatory requirements.
An increasingly significant issue for hospitals is the increase in patients covered by Medicare and Medicaid -- 60% of all admissions. Neither program fully reimburses the cost of hospital care, the hospital association said.
Hospitals are also seeing a jump in the cost of care for patients who can't pay, which averages about 6% of hospital expenses. Hospitals assume those costs as part of their legal duties to provide "charity care."
Doctor visits: According to the American Medical Association, the cost of physician care, both to insurance and patients, has risen 1.3% during the past year.
Doctors who accept insurance have little wiggle room to recoup higher costs, because they are locked into negotiated fee rates with insurers.
At the same time, consumers are paying a bigger share of their medical bill than before. Why? Because insurers are shifting more of the payment burden onto customers through higher co-payments, co-insurance and deductibles.
Insurers are also making customers pay much more out of pocket if they choose a doctor who is not in their network.
Medical tech: New technologies, such as robotic surgery, are growing rapidly. More than 36% of hospitals already perform robotic surgery, according to a report from PwC's Health Research Institute.
These high-cost procedures improve the quality of care but they also push up costs for consumers, the research firm said.
In health care, any advancements in technology costs more at the outset. "That's why MRIs costs more than X-Rays," said Mike Thompson, principal with PwC, who advises employers on their health benefits strategies.
As a result, insurance claims for new high-tech procedures also are typically higher.
Lab tests: More consumers are using medical labs -- driving up the overall cost of testing.
According to the PwC report, 51% of laboratory representatives expect an increase in demand in the next three to five years. The reasons: the aging population and a push toward "personalized" medicine based on patients' genetic makeup.
Drugs: Drug costs are still rising but at a slower pace, said Thompson.
"The pace of increase is being mitigated by more expensive branded drugs going off patent and their cheaper generic equivalents coming to market," he said.
According to PwC, generic drugs account for about 80% of all prescriptions in the United States. "Generic equivalents don't immediately hit the market," Thompson said. "So there is a lag time before prices adjust for a drug that goes off patent."
Health plan administration: Insurers make annual changes to the prices of their plans to factor in their own cost of doing business.
For example, insurers may set higher premiums and deductibles if the volume of insurance reimbursements they paid out in the prior year was more than they had expected.