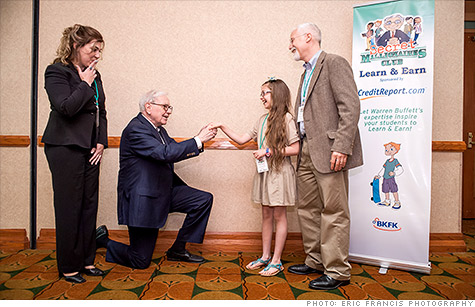 Warren Buffett makes a mock marriage proposal to 10-year-old Aria Eppinger, winner of a "Grow Your Own Business Challenge." The kids who were finalists in the competition received shares of Berkshire Hathaway class B stock in addition to cash awards.
NEW YORK (CNNMoney) -- Fifteen school children have won a prize that would make a lot of grown-ups envious -- shares in Warren Buffett's Berkshire Hathaway.
No, they didn't get the $125,000-plus class A shares (BRKA, Fortune 500) of Berkshire. But the children, ages 7 to 16, each got 10 lower-priced class B shares (BRKB) of Berkshire for being finalists in Buffett's "Grow Your Own Business Challenge," according to an SEC filing. At Thursday's closing price, the shares are worth $835.80.
The challenge was an extension of "The Secret Millionaire's Club" animated TV series featuring Buffett. The series is aimed at teaching children about business, good personal finance habits and how businesses can give back to society.
In the challenge, the children entered plans for their own business. The plans were partly judged for doing good with the money their business would earn.
The finalists all got at least $1,000 in cash as their prize, with the winners getting somewhat more. But Buffett surprised them with the stock bonus at an event in his hometown of Omaha, Neb., in May.
The kids can't match the size of Buffett's charitable donations -- the SEC filing also included an estimated $1.5 billion to the foundation headed by Microsoft (MSFT, Fortune 500) founder Bill Gates and his wife, Melinda.
But they can match his charitable spirit. A team of students from New York City's borough of Queens took some of the $20,000 it won for a mobile school store idea to restore some cultural programs at the elementary school that had been eliminated in budget cuts.
A team of students from Queens, New York, who won $20,000 in the group competition for "Deals on Wheels," a mobile school store that earned a $3,000 profit going from room to room at their school to sell supplies and healthy snacks to students and teachers.
And Aria Eppinger, a Pittsburgh fourth grader who won $5,000 for a plan to sell equipment needed to make shirts and other items that light up, donated some of her winnings to a local animal rescue league, a food bank and a Montessori school.
But the girl says she plans to hold onto the stock "forever."
"It's a special stock," said Aria, who has never owned a stock before. "It's fun to just check on the price. It's not like I check it every five minutes, maybe every other day or once a week."