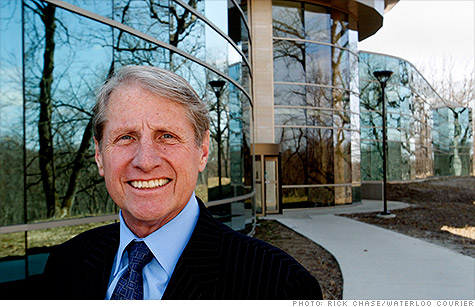 Russell Wasendorf Sr., of PFG, has been arrested for making false financial statments to Commodity Futures Trade Commission. He survived a suicide attempt, and now his suicide note is being used against him.
NEW YORK (CNNMoney) -- Russell Wasendorf, Sr., founder and chief executive officer of Peregrine Financial Group, was arrested Friday in connection with an alleged $200 million fraud involving his futures trading company, government attorneys said Friday.
Wasendorf, who survived a suicide attempt earlier this week, is accused of making false statements to the U.S. Commodity Futures Trade Commission between 2010 and July 2012.
Peregrine Financial, known as PFGBest, filed for liquidation earlier this week in the wake of the fraud allegations.
Wasendorf, 64, was found in his parked car near the firm's Cedar Falls, Iowa, headquarters by a sheriff's deputy. The deputy was responding to a 911 call, according to the affidavit, and found the engine running and a hose going into the car.
According to a criminal complaint filed by the U.S. Attorney's Office, agents from the Omaha, Neb., office of the FBI used a suicide note found with Wasendorf against him.
"I have committed fraud," read the note, which was written to his wife, according to the complaint. "For this I feel constant and intense guilt. I am very remorseful that my greatest transgressions have been to my fellow man."
"Through a scheme of using false bank statements I have been able to embezzle millions of dollars from customer accounts at Peregrine Financial Group, Inc.," the note in the complaint said. "The forgeries started nearly twenty years ago and have gone undetected until now."
Wasendorf claimed to be the only one involved in the scheme, according to the complaint.
"I was able to conceal my crime of forgery by being the sole individual with access to the U.S. Bank accounts held by PFG," the note said. "No one else in the company ever saw an actual U.S. Bank statement."
According to the complaint, he said that he turned to crime once he "had no access to additional capital."
"I was forced into a difficult decision," Wasendorf wrote in his note, "Should I go out of business or cheat? I guess my ego was too big to admit failure."
The complaint said Wasendorf expressed pride in his forgery skills in his note.
He espoused his proficiency with "Photo Shop, Excel, scanners, and both laser and ink jet printers. I was able to make very convincing forgeries of nearing [sic] every document that came from the Bank. I could create forgeries very quickly so no one suspected that my forgeries were not the real thing that had just arrived in the mail."
"With careful concealment and blunt authority I was able to hide my fraud from others at PFG," the note said.
Wasendorf's son, Russell Wasendorf, Jr., is the chief operating officer of PFG. He was able to sign the Chapter 7 bankruptcy filing for his father, who was "incapacitated" at the time, under power of attorney.
On Tuesday, the National Futures Association, which regulates the futures industry, froze PFG's funds.