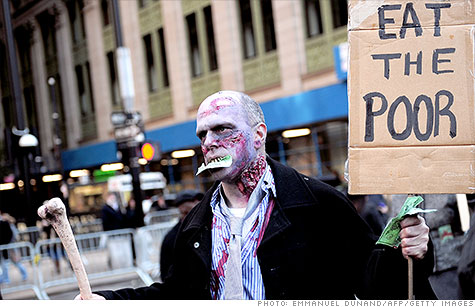 Is the economy really stalling into a zombie-like state, or are the statistics just distorting the picture?
NEW YORK (CNNMoney) -- Welcome to what's being called the "Zombie Economy."
The recovery seemed to be picking up in the winter, only to then taper off in the summer. Several major indicators are barely showing a pulse these days, leading many to compare the U.S. economy to the walking dead.
But the heart-stopping stall might not be quite as bad as it appears.
Recent data would seem to back up the 'zombie' theory. The economy was growing at a 3% rate at the end of 2011, only to fall below 2% in the first three months of this year. Several economists are now cutting their forecasts for second quarter growth closer to 1%.
The job market also seems to be on life support. Only 80,000 jobs were added in June -- paltry hiring compared to gains of over 200,000 jobs a month from December through February.
Some economists suspect that the economy isn't weakening at all, but rather, seasonal adjustments -- complicated calculations that aim to smooth out weather-related factors -- are making the winter look artificially strong and the summer look unfairly lousy.
Maybe the real story is, we've been growing consistently -- albeit still slowly -- all along.
"Hiring isn't falling off a cliff," said Dean Croushore, chair of the economics department at the University of Richmond. "It's really been growing fairly slowly but steadily throughout."
There is some weight behind that argument. Stripping out seasonal adjustments and looking at year-over-year changes shows a much smoother picture.
According to the unadjusted figures, hiring at private companies has been growing at an annual rate of roughly 1.8% to 2.1% for more than a year now. And unadjusted figures for gross domestic product show the broader economy has also grown fairly consistently, at a 1.5% to 2% pace over that same time period.
"There isn't a seasonal pattern coming through when you look at private sector hiring," said Beata Caranci, deputy chief economist at TD Bank. "In fact it's been completely steady basically since March of last year."
A long convalescence ahead
While recent data may not be quite the death knell that deserves the 'zombie' label, growth has still been frustratingly slow.
Weak consumer spending remains one of the biggest factors. It has been picking up, but at a rate of only 1.5% to 2.2% year-over-year.
"The fundamental problem is we had this financial crisis and a lot of people still haven't recovered from that," Croushore said. "People aren't spending nearly as much as they used to and they're not likely to spend a lot more until they're out of financial trouble."
The outlook isn't great either. Even though incomes have been rising slowly, households have still been focused on cutting back rather than ramping up spending.
Now that gas prices have come down and home prices have started to rise, that could help a bit. But still, 12.7 million Americans are unemployed and home prices are only slightly above 10-year lows, keeping household wealth depressed. Under those circumstances, why would consumers go out and spend?
Businesses continue to be cautious too. Even with stronger profits, the uncertainty about U.S. fiscal policy and lower demand from foreign customers in Europe and China, is keeping companies on edge.
The recovery is likely to stay stuck in slow motion for a while.