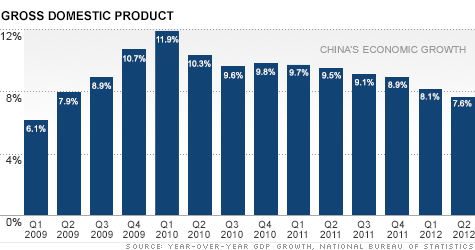 China's economic growth recently slowed to its weakest pace since early 2009.
NEW YORK (CNNMoney) -- China is growing at its slowest pace since the recession -- a worrisome sign for the broader global economy.
Compared to a year earlier, China's economy grew 7.6% in the second quarter, the National Bureau of Statistics said Friday, marking a deceleration from an 8.1% growth rate in the prior quarter and the slowest growth since early 2009.
While the rate still sounds fast compared to paltry 2% growth in the United States, it marks an uncomfortable soft patch for China. Over the last three decades, the country has barreled ahead at an average of about 10% a year.
The slowdown can be blamed on a variety of factors. China's government was aiming for a slight deceleration, as it tried to tame its real estate boom and rapid inflation.
Those measures have largely worked, with ongoing real estate regulations weakening property sales. Meanwhile, inflation recently fell to its lowest rate in two years.
But the timing of those efforts has coincided with turmoil in the global economy. Weaker demand from foreign customers, especially in Europe and the United States, has hit Chinese exports hard, and its manufacturing sector has slowed.
Overall, the economy is now slowing more quickly than initially hoped, and the ripple effect can be felt especially at large multi-national companies.
China is the United States' third largest customer for exports, after Canada and Mexico, and many American companies are relying on strong sales there to boost their bottom lines.
"American and European companies that have been seeing really poor performance at home, were coming to rely on China to be the growth engine for their company," said David Hartman, practice director at Blue Canyon Partners in Beijing. "They're worried now, what happens if that growth engine slows down?"
Advanced Micro Devices (AMD, Fortune 500), a chip maker based in Sunnyvale, Calif., lowered its sales outlook earlier this week, citing softer demand in China. So too did Cummins, an engine-maker based in Columbus, Ind.
Chinese steel manufacturer Baoshan Iron & Steel announced it will lower steel prices, implying demand from infrastructure projects is waning. Aluminum maker Alcoa (AA, Fortune 500) also cited "delayed infrastructure spending" in China in its latest earnings release.
While the construction and industrial boom has been slowing, Chinese consumers have not been feeling the slowdown as dramatically. Retail sales have been holding up strong -- a sign that government efforts to shift the economy toward more domestic demand may be working.
Income for urban households was up 9.7%, comparing the first half of 2012 to that same period last year. For rural households, income was up 12.4%, adjusted for inflation.
"On the street there is absolutely no visible slowdown at all," Hartman said. "The retail stores are still full. People are still shopping and buying things."
Stabilizing the economy is now China's top priority, Premier Wen Jiabao said this week.
"As a developing nation, China needs to maintain a certain level of economic growth so as to provide a foundation for economic and social development, as well as the improvement of people's livelihoods," Wen said, according to official news agency Xinhua.
As part of its stimulative efforts, the People's Bank of China cut interest rates twice since June and has also tried to spur growth by freeing up bank reserves.
Bank lending has started to pick up in China, and economists are hopeful that this will lead to stronger economic growth in the second half of the year.