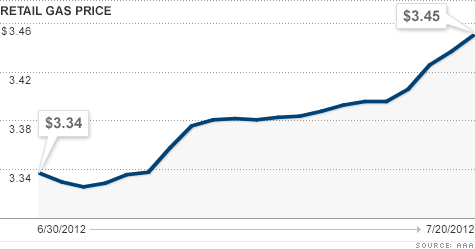 Gas prices are up 11 cents so far this month, following crude prices higher. Click chart to see gas prices in your state.
NEW YORK (CNNMoney) -- Gasoline prices have risen 11 cents a gallon from the start of the month, following a rise in oil prices that was spurred by increasing tensions with Iran, an easing of the crisis in Europe and hopes for more stimulus from central banks.
Gas prices often lag crude prices by a couple of weeks.
While national average retail gas prices have risen only 3% since hitting a low of $3.33 on July 1, according to AAA, oil prices have surged 17% since bottoming out at their recent low of $78.20 on June 21.
Crude is now trading at nearly $93 a barrel, its highest since May.
"I think we'll see retail prices continue to tick up," said Andrew Lebow, an energy broker at Jefferies Bache in New York, noting that gasoline futures prices are up 40 cents a gallon since the end of June.
Lebow doesn't see a 40-cent-a-gallon rise in retail prices. Cost increases or declines on the futures market are seldom passed all the way through to the consumer. But he said another nickel or dime hike in the next few weeks is all but baked in.
Crude prices turned higher at the end of June as sanctions imposed on Iran over its nuclear program by the U.S. and EU took effect.
Since then Iran has repeated threats to shut the Strait of Hormuz -- a vital oil transit point -- and a U.S. Navy ship fired on an approaching vessel in the Gulf, killing a fisherman.
Reports linking Iran to a bus explosion in Bulgaria Wednesday that killed five Israeli tourists is not helping calm the situation either.
Oil prices have also been bolstered by an easing of the debt crisis in Europe. In June it was feared that several countries might exit the eurozone, which could throw the region into a deep recession and dampen demand for oil.
Those fears have since eased as a series of bailout plans have at least temporally calmed markets.
There has also been speculation that central bankers around the world may inject more money into the global economy.
The moves are designed to spur growth, but can also cause inflation, especially in commodities like oil.
But barring major improvement in the world economy, an outright confrontation with Iran or some other unforeseen event, analysts say crude prices will have a hard time moving higher.
"Today's rally is (again) based on broader sentiment rather than any improvement in the demand fundamentals of the crude market," Matt Smith, a commodities analyst at the consultancy Summit Energy in Louisville, Ky., wrote in a research note Thursday.