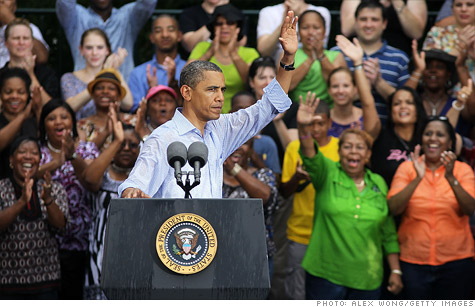 Bad news for Obama: The unemployment rate will likely be above 8.0% on Election Day.
NEW YORK (CNNMoney) -- Unless the economy mounts a dramatic turnaround, President Obama will be forced to ask voters for a second term while the unemployment rate sits north of 8%.
Any campaign consultant will tell you that's bad news for the incumbent -- and it could get worse.
Robust labor market growth in the first three months of the calendar year has given way to three consecutive disappointing jobs reports. The housing market remains tied in knots. And growth is depressingly weak.
Europe is mired in an intractable debt crisis that shows few signs of easing. At home, the impending fiscal cliff has the potential to unsettle businesses to the point where they are reluctant to make investments or hiring decisions.
The resulting economic outlook -- especially from the Obama campaign's perspective -- is not especially rosy. With only four monthly jobs reports remaining before Election Day, it now seems unlikely that unemployment will drop below 8%.
The current unemployment rate is 8.2%. Patrick Sims, a director at Hamilton Place Strategies, said that getting below 8.0% is "not going to happen" by Election Day.
Sims calculates that 219,000 new jobs would be needed each month to drop the rate below 8.0%. By way of contrast, the economy added an average of just 75,000 jobs per month in the second quarter.
By the president's own admission, the labor market is not performing well. "We're not where we need to be," Obama said after the release of May's jobs report. "We're not there yet."
But even for a campaign that surely once fantasized about a robust economic recovery capable of carrying the president to victory, all is not lost.
Obama's approval rating has held fairly steady. Prediction market Intrade currently forecasts the president will win a second term; ditto for many academic prognosticators.
It's worth looking beyond the unemployment rate for an explanation.
The unemployment rate is the favorite shorthand descriptor for political campaigns looking to lambaste an opponent over the state of the economy, but it is just one indicator among many.
Related: Economists give Obama and Congress a 'D'
More important than the unemployment rate is the actual number of jobs being added. Broad economic growth, consumer confidence, inflation and industrial activity are also useful indicators.
"These little pieces -- little data points -- don't matter a whole lot, but collectively they tell a story about the 'big E' -- the economy," said Christopher Wlezien, a professor of political science at Temple University.
Wlezien said voters form their opinions on the economy over a long time period -- but cautioned that it would be a mistake to think the four months remaining before Election Day won't matter.
"These four months could tilt the election one way or another," he said. "We're not in a boom or a bust right now. A slight edge could become a real lead if the economy improves."
Of course, the inverse is also true. A precipitous slowdown would benefit Mitt Romney, the presumptive Republican nominee.
Related: A snapshot of Obama's economy
Research suggests that the economic trend -- or as Wlezien calls it, the slope of the economy -- is the most important factor to consider when forecasting election results based on economic conditions.
That is why it's not terribly important that the unemployment rate is at 8.2%. What matters more is the trend as Election Day approaches.
Wlezien pointed to former President Ronald Reagan's re-election in 1984 as evidence. Even with an unemployment rate of 7.2%, Reagan won in a landslide after the economy improved rapidly ahead of the election.
If Obama is to receive even a mild boost, the first indicator may come next week, when the government will issue its first reading of gross domestic product for the second quarter.
But economists, who generally weren't expecting robust growth to begin with, have been slashing their projections for second quarter growth in recent weeks.
"There is not much time left," Wlezien said. "A lot of voters have made their decisions already. As time goes by they are less and less likely to change."