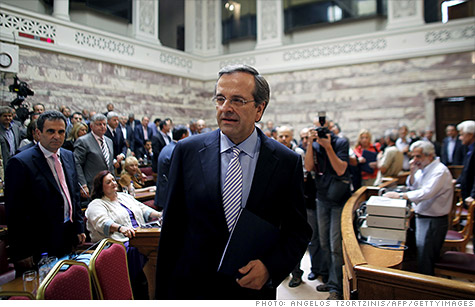 Greek prime minister Antonis Samaras meets this week with representatives of the nation's international creditors.
NEW YORK (CNNMoney) -- Greece is back in the spotlight this week, as the government's official creditors return to Athens amid renewed speculation about the nation exiting the eurozone.
The so-called troika of representatives from the European Union, International Monetary Fund and European Central Bank are there to review the Greek government's progress on reforms tied to the latest bailout agreement.
The troika is preparing a report on Greek finances that could determine whether the nation qualifies for its next installment of bailout money.
But the group is not expected to complete its review until next month, and European Commission spokesman Antoine Colombani said Monday that a decision on the next disbursement would not be made until September.
Greece is facing a €3.1 billion bond redemption on Aug. 20.
It is unclear how Greece will make that payment, although some analysts say the government could cover its financing needs by selling short-term bills.
The talks in Athens come as the long-running crisis in the euro area intensifies, with Spain and Italy under pressure in the bond market.
In a sign of the renewed jitters, Moody's warned Monday that the credit ratings of some of the strongest eurozone economies, including Germany, could be subject to a downgrade.
The agency cited, among other things, the increased risk that Greece could exit the currency union -- a development that "would be profoundly negative for all euro area members."
Under the €130 billion bailout agreement struck in March, Greece committed to cut the public debt to 120% of gross domestic product by 2020.
But the program is widely believed to have gone off track following tumultuous elections in May and June, which resulted in a fragile governing coalition under the direction of Prime Minister Antonis Samaras.
Samaras is scheduled to meet Thursday with coalition leaders, including former finance minister Evangelos Venizelos, to discuss additional austerity measures, according to Greek media reports.
The coalition reportedly needs to come up with an additional €2.5 billion in savings to meet the €11.5 billion target set by the troika for 2013 and 2014. The moves under discussion could include unpopular cuts in public benefits.
Samaras is scheduled to meet with the troika Friday, one day after the troika meets with finance minister Yannis Stournaras.
The Samaras-led government has pledged to meet the nation's financial commitments, while also indicating that some renegotiation of Greece's bailout program is necessary.
The Greek economy is currently suffering its own version of the "Great Depression," Samaras said Sunday.
"Greece is now going through a crisis unprecedented in times of peace," the Greek prime minister said after meeting in Athens with former U.S. president Bill Clinton.
While some analysts and policymakers argue that an exit by Greece would be manageable, others say such an unprecedented event could shock the global economy as it struggles to recover from the 2008 financial crisis.
Eurozone authorities have taken steps to build up a so-called firewall to protect larger economies, such as Spain and Italy, in the event of a Greek exit. But the cornerstone of that wall, the European Stability Mechanism, is not expected to be fully functional until a review by Germany's high court is complete in September.
Dimitris Drakopoulos and Lefteris Farmakis, financial analysts at Nomura Securities, summed up the risks associated with a Greek exit.
"Although it is frequently argued that a Greek exit is now manageable, no one knows what the consequences of such a development would be, especially now that Spain looks more likely than ever to have to apply for a full program and Europe's weak firewalls seem likely to be tested," they said in a research note.
Meanwhile, rumors have been swirling about the willingness of Germany and other northern European nations to back additional funds for Greece.
As the nation's economy deteriorates, reports have suggested that Greece could need up to €50 billion more to cover all of its financing needs.
Over the weekend, a report in Der Spiegel said Germany and the IMF were opposed to providing additional loans for Greece on top of what has already been committed.
In response, an IMF spokesman said Monday that the fund supports Greece "in overcoming its economic difficulties."
Colombani declined to comment on the news report, but he said the Greek government is aware of the need to "catch up" on its bailout program by urgently taking "concrete action."
The latest brinkmanship comes after the European Central Bank decided last week to stop accepting Greek government bonds as collateral, pending the troika's review. In the meantime, however, Greece can still access emergency liquidity at the Greek Central Bank.
In another troubling sign, the chief executive of the agency in charge of privatizing Greek state assets resigned last week, reportedly out of frustration with the government's efforts to block asset sales.