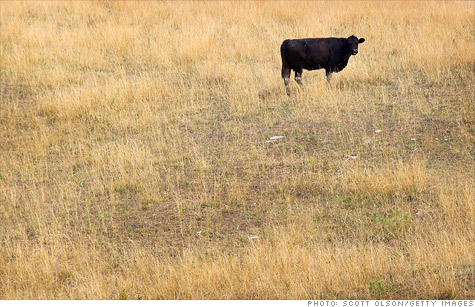 The Agriculture Department is looking to provide some relief for farmers hard-hit by the severe drought in the nation's midsection.
WASHINGTON (CNNMoney) -- With large portions of the nation's corn crop faltering and acres of grazing land ruined, the U.S. Department of Agriculture is looking for ways to soften the blow of this summer's severe drought on farmers and ranchers.
While there are no specific estimates available, the drought that has stricken the nation's midsection is expected to result in tens of billions of dollars in agricultural losses. Its impact will also be felt through higher grocery prices.
Agriculture Secretary Tom Vilsack announced Monday that his department will cut the interest rates on emergency loans for farmers hard-hit by the drought to 2.25% from 3.75%.
Vilsack also issued a plea to insurers, asking them to give farmers an extra grace period and not charge penalty fees when farmers can't muster enough cash to pay premiums.
Crop insurers said they were willing to work with farmers to make premiums.
"In order to help farmers and ranchers through the hardship of the 2012 season, crop insurance companies are committed to working directly with their policyholders to make arrangements for delays on premium payments," said Tom Zacharias, president of National Crop Insurance Services.
Livestock ranchers are being hit especially hard. While ranchers have insurance, it's not as thorough as crop insurance when it comes to droughts. Plus the cost of grain and feed for livestock is going up, since so many crops are failing.
With an eye toward helping the livestock industry, Vilsack announced changes to existing programs that pay farmers more to let hay grow in their fields in order to provide feed for livestock.
The impact of these new measures available to farmers will help, although not nearly as much as existing insurance programs, many of which are heavily subsidized by the federal government, experts say.
"These authorities that the Secretary has, they can help farmers, but more often than not, that help is on the margins, said Dale Moore, deputy executive director for public policy at the American Farm Bureau Federation.
Last week, the USDA reported that 38% of the nation's corn crop and 30% of soybeans are doing poorly. Also, more than half of the nation's pasture and rangeland is in its worst condition in more than 15 years.
The federal government had already declared a third of the nation's counties federal disaster areas, qualifying farmers for the emergency loans.