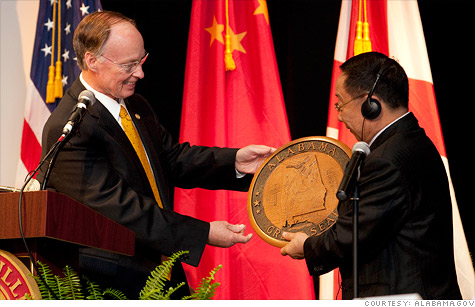 Governor Robert Bentley presents Li Changjie, Chairman of Golden Dragon Precise Copper Tube Group, Inc., a state seal to welcome the company to Alabama.
NEW YORK (CNNMoney) -- Chinese direct investment in the United States could hit a record high in 2012, according to a new research report released Wednesday.
Total Chinese foreign direct investment in the U.S. is on pace to reach at least $8 billion this year, according to the report from research firm Rhodium Group.
That would top the previous record of $5.7 billion reached in 2010, said Thilo Hanemann, research director with Rhodium Group, which tracks all acquisitions and investments in manufacturing facilities, warehouses, labs and offices by foreign companies in the United States valued at $1 million or higher.
Hanemann said this year's pending multi-billion dollar acquisitions include Dalian Wanda's $2.6 billion dollar bid for movie theater chain AMC and Chinese aerospace manufacturer Superior Aviation's $1.8 billion bid for Wichita, Kan.-based aircraft maker Hawker Beechcraft.
"If those two deals happen, we may even cross $8 billion this year," said Hanemann.
Chinese investors are targeting a variety of American industries for investment. These include advanced manufacturing and oil and gas -- led by Sinopec's (SHI) $2.5 billion stake in Devon Energy (DVN, Fortune 500) projects.
Other industries in focus are renewable energy, aerospace, electronics and banking.
Hanemann says changes in China's economy, which is growing at its slowest pace since the recession, are forcing Chinese companies to look for faster growth opportunities in developed economies such as the United States.
"In China, it's becoming harder for companies to achieve economies of scale," he said. "The cost of labor, land, electricity and regulatory compliance has gone up."
In manufacturing, the biggest investments are being made by Chinese firms with products that have been slapped with hefty anti-dumping tariffs, Hanemann said.
Opening up a plant in the United States allows Chinese firms such as Golden Dragon Precise Copper Tube Group, Inc. -- which broke ground this year on a $100 million plant in Thomasville, Ala. -- to avoid these tariffs.
But there are both risk and benefits to the United States from increased Chinese investment, said Hanemann.
The risks include national security and transparency concerns, he said. He also expects American companies will put more pressure on policymakers to push for a level playing field for them in China.
The benefits are that Chinese companies are creating jobs and increasing tax revenue in communities where they invest.
An indirect benefit is that Chinese companies operating here are exposed to the U.S. regulatory system.
"In the past, if the Chinese company wasn't operating here, it wasn't scared of potential litigation," said Hanemann. "By having significant assets in the U.S., it positively influences their compliance."