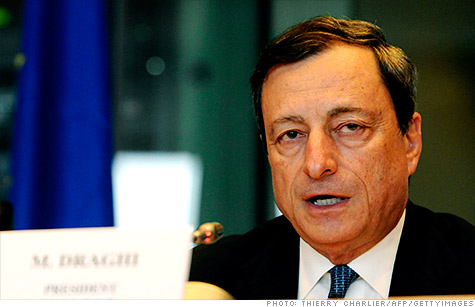 ECB president Mario Draghi has opened the door to potentially resuming buying bonds from troubled sovereign nations.
NEW YORK (CNNMoney) -- European Central Bank president Mario Draghi raised hopes Thursday for more aggressive and unconventional intervention in European financial markets.
"The ECB is ready to do whatever it takes to preserve the euro," the top monetary official for the 17-nation euro area told business and political leaders at an invitation-only conference in London.
Draghi stressed that the ECB must adhere to its official mandate to "maintain price stability" by managing interest rates. However, he acknowledged that the single currency faces "short-term challenges" that require an immediate response.
The comments raised hopes the ECB will resume its purchases of euro area government bonds under the controversial Securities Market Program.
The ECB reopened its SMP late last year as yields on euro area bonds surged, but the program has been inactive for months.
This week, Spain and Italy have seen borrowing costs rise to unsustainable levels as investors worry that a full-blown bailout of Spain would leave Italy without a safety net.
"To the extent the size of this sovereign premia hamper the functioning of the monetary policy transmission channels, they come within our mandate," Draghi said.
In other words, the risk premium that investors are demanding to lend money to Spain and Italy is preventing the ECB from maintaining price stability. "So we have to cope with this financial fragmentation by addressing these issues," the central banker added.
Stocks rallied in London, Paris and Frankfurt as investors cheered Draghi's comments. U.S. markets surged as the optimism spread.
In the bond market, yields on Spain's 10-year bonds dropped below 7% for the first time in a week, as prices rebounded. Italian 10-year bond yields fell to 6.1% from a high of 6.7% earlier this week.
Draghi's comments also raised hopes the ECB could launch a third Long Term Refinancing Operation, or LTRO. The ECB funneled more than €1 trillion into the banking system through two separate LTROs, helping ease sovereign borrowing costs earlier this year.
The ECB has stressed that the LTROs are only designed to buy time for euro area policymakers to enact difficult economic reforms. Draghi has said repeatedly that monetary policy cannot solve the underlying problems in the eurozone.
Injecting a note of caution, Draghi said, "We don't want to supplement actions that have to be taken by governments. We can't supplement actions that need to be taken at the euro level. That is not our job. Our job is to maintain price stability and to handle the fragmentation of the markets."
Draghi's comments have lifted investors' hopes in the past, only to be let down as the crisis drags on. The central bank will probably not make any official announcements before its next policy meeting on Aug. 3.
Still, Draghi sought to reassure his audience that "the euro is irreversible."
"And it is not empty words now," he continued. "The actions we are making would make it irreversible."
In a colorful turn of phrase for a central banker, Draghi compared the world's second-largest reserve currency to an un-aerodynamic insect.
"The euro is like a bumblebee - it shouldn't fly, but it does," said Draghi. "The euro needs to change into a real bee, and it will."