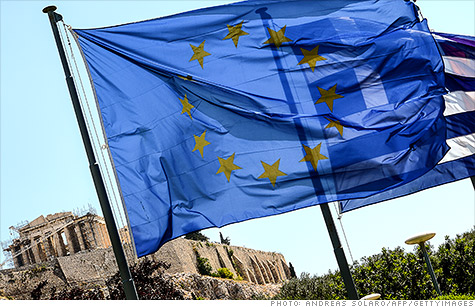 Citigroup's analysts think that Greece won't use the euro currency for much longer.
NEW YORK (CNNMoney) -- The odds of a Greek exit from the eurozone are moving up.
Citigroup's (C, Fortune 500) chief economist, Willem Buiter, said Thursday that there's a 90% chance Greece will flee the euro currency in the next 12 to 18 months.
The so-called Grexit -- a term coined by Buiter -- would most likely take place by early 2013, the Citigroup report said.
Buiter and his team had previously assessed the probability of a Greek exit at 50% to 75%.
Greece's creditors had been willing to give the nation a break in the hope that a new government would help get its fiscal house in order, said Buiter. But that doesn't appear to be the case anymore.
It's now becoming clear that the new government cannot effectively put an austerity plan in place or the proper checks and balances on the company's fiscal programs, Buiter noted in his report.
With bailouts on the table for both Spain and Italy, Citigroup's analysts said patience for Greece to make these changes is wearing thin among eurozone finance ministers.
It's a Catch-22 for the eurozone. If Greece stays in, Citigroup's analysts expect that capital will continue to leave other peripheral European nations, including Spain, Italy, Ireland and Portugal.
Yet, Citigroup's prognostications if Greece does indeed exit the eurozone are also foreboding.
"Our base case is for prolonged economic weakness and financial market strains in periphery countries, spilling over into renewed recession for the euro area as a whole this year and the next," wrote Buiter and his team.
Buiter also predicts that members of the eurozone will be forced to bail out both Spain and Italy by the end of 2012.
The end game for eurozone: the rest of the member countries stay put, while the sovereign debt of Portugal, Ireland and maybe Italy, Spain and Cyprus get restructured.
"For all periphery countries, the current mix of fiscal austerity and supply-side reform will fail to achieve a return to a sustainable fiscal path," said the Citi analysts.