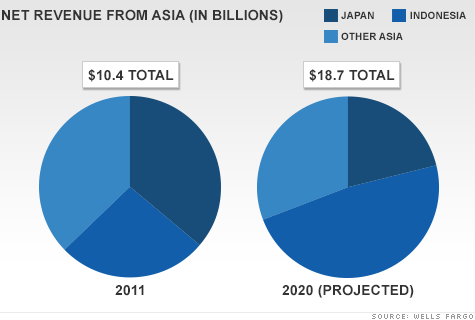 Revenue from Asia is expected to nearly double as more smokers are choosing Philip Morris's premium brands.
(MONEY Magazine) -- In tough times cigarette makers and other so-called sin stocks can be a safe haven for investors, since people tend not to give up their vices even when reining in other spending.
That's been true of Philip Morris International (PM, Fortune 500). The world's largest publicly traded tobacco company has been on a stellar run since 2008, when it was spun off to sell iconic brands like Marlboro outside the U.S. while former parent Altria peddles them domestically.
The big question: As growth slows in key markets, can new ones keep sales -- and the stock price -- glowing?
Asia provides the spark
Europe, accounting for 30% of sales, had been Philip Morris' largest market, but growth there is slowing: Revenue was up just 4.6% last year.
Demand in Asia has been smoking, though -- sales were up nearly 35% in 2011, as more consumers in emerging markets like Indonesia are able to afford PM's premium brands. Wells Fargo analyst Bonnie Herzog expects revenue from Asia to nearly double by 2020, to $18.7 billion.
Philip Morris also has an inside track on the Chinese market, which has been closed to foreigners: Its new joint venture with China's national tobacco company will let it sell the Marlboro brand there. Still, Morgan Stanley analyst David Adelman says it could be 10 to 20 years before sales in China have a real impact.
Taxes could be a drag
Increases in the already substantial excise taxes collected by cigarette makers could hurt sales, particularly for premium brands, as some smokers switch to lower-priced labels.
Analyst Thilo Wrede of Jefferies & Co. expects a few cash-strapped governments will continue to hike levies but says the impact on Philip Morris will be muted because of the large number of countries (over 180) it operates in.
New legislation that could dampen demand also poses a threat. Australia, for instance, recently passed plain-packaging laws that will remove the Marlboro Man's picture from packs come December. Wrede says there is "concern the law will spread to other markets," which could diminish the value of PM brands.
Top names pay off
With 65% growth in its stock price since the spinoff, Philip Morris has handily beaten other cigarette makers, including Altria (MO, Fortune 500) (up 48% during this period) and British American Tobacco (BTI) (up 35%), while trouncing the overall market (the S&P 500 was flat).
That's left the stock looking expensive, with a price/earnings ratio higher than the average tobacco stock and the S&P.
Helping support the shares: Philip Morris recently announced a three-year plan to repurchase $18 billion worth of stock, of which $6 billion will be spent this year.
Meanwhile, investors get the benefit of a cushy 3.7% dividend yield, a bit lower than the 4.7% industry norm but well above the recent 2.2% going rate for the average stock.