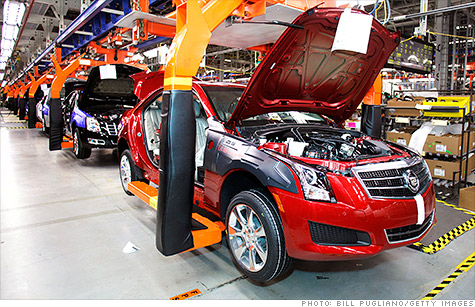 GM earned $2 billion in North America in the second quarter, but losses in Europe hurt its results.
NEW YORK (CNNMoney) -- Earnings at General Motors fell sharply due to "headwinds" in Europe, but still easily topped forecasts.
The world's largest automaker reported that profits were down 41% from a year ago to $1.5 billion, or 90 cents a share, in the second quarter. Still, that was well ahead of the 74 cents a share of profit that analysts were expecting, according to Thomson Reuters.
GM (GM, Fortune 500) shares jumped as much as 5% in premarket trading immediately following the report, but gave up those gains after the European Central Bank failed to take action to spur the EU economy. Shares were slightly lower in late morning trading.
Total GM sales fell 5% to $37.6 billion, even as the number of vehicles sold worldwide edged up slightly. The revenue decline was due to a strengthening of the dollar compared to a year ago.
GM's operating profit in North America slipped 13%. But the big hit to earnings came from Europe, where GM lost $361 million. It was profitable in Europe a year earlier.
Sales in Europe fell in the face of high unemployment and widespread recession related to the European sovereign debt crisis.
CEO Dan Akerson told analysts that the company is in talks with German unions about a new comprehensive agreement that will address productivity, costs and the company's excess capacity. The agreement is expected to be in place this fall.
"In the past, we haven't moved fast enough to fix the things [in Europe] we can control," he said. "But that has changed."
GM's international unit, which includes operations in China and other countries outside of the Americas and Europe, reported that profits fell just 3% from a year ago. But GM's South American business posted a narrow loss.
The economic funk in Europe has become the most serious problem for the global auto industry. Last month, Ford Motor (F, Fortune 500) reported a 57% plunge in profits in the second quarter due to mounting European losses.
While Toyota Motor (TM) earnings are expected to improve when it reports results Friday, that's because its operations were greatly affected by damage from the Japanese earthquake and tsunami last year. Toyota is also likely to note weaker demand in Europe.
Of the major U.S. automakers, Chrysler Group is the only one that has not been hurt by Europe, despite being owned by Italian automaker Fiat. Chrysler has a limited European footprint, and saw second-quarter earnings that were sharply higher.
Still, GM and other automakers may also have to contend with a weakening U.S. economy for the rest of the year.
GM reported a bigger than expected drop in U.S. sales in July. It was a disappointing month industrywide for car sales, raising worries that consumers are pulling back after strong demand in the first half of the year.
GM didn't announce any immediate changes to stem losses in Europe. Executives refused to give any guidance on how large losses will be during the rest of the year or how long they'll continue, saying only that it remains a challenging environment.
"We clearly have more work to do to offset the headwinds we face, especially in regions like Europe and South America," said Akerson.
GM recently shook up management of its European operations, naming vice chairman Stephen Girsky as the interim head of operations there. But the problems in Europe are deeply entrenched. GM estimates that it has lost $14 billion in Europe over the last 12 years.
Still, even with the problems in Europe and some softening demand for its cars at home, the results reported Thursday mark an impressive turnaround for a company that was in bankruptcy only three years ago and kept alive through a government bailout.
Thursday's results marked the tenth straight quarter of profitability, a milestone GM had not achieved in more than a decade.