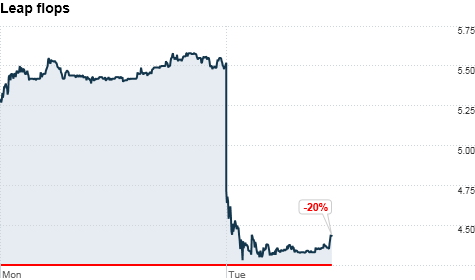 Click chart to see more information about Leap's stock.
NEW YORK (CNNMoney) -- Pre-paid cell phone carrier Leap Wireless is in dire straits.
Shares fell 22% to a new low of $4.28 Tuesday, a day after the company announced that it had lost 289,000 customers and $42 million in the second quarter. The stock has tumbled more than 53% this year.
The customer losses were much steeper than the company had anticipated.
Leap (LEAP), which sells pre-paid wireless service under the Cricket brand, said it would focus on improving its customer retention for the remainder of the year by making "significant enhancements" to its higher-end smartphone plans, including the addition of more price points, 4G service and better devices.
Leap already began selling the Apple (AAPL, Fortune 500) iPhone in late June, but customers have to shell out $500 up front for the device -- $300 more than customers under contract with Verizon (VZ, Fortune 500), AT&T (T, Fortune 500) or Sprint (S, Fortune 500). This week, Sprint announced a promotional rate of $150 for the iPhone.
Leap said it expects the iPhone to make up just 10% of its overall Cricket sales, partially due to the higher-than-average monthly rate. The iPhone's $55 per-month cost is much more expensive than the other devices Leap sells.
Still, Leap expects the iPhone to help in the coming quarters. Advertising for that device just began in the current quarter, but a number of promotions aimed at driving customer growth fell flat in the previous three months.
To solve its financial woes, Leap said it will close stores, cut spending on marketing and slash planned investments in its 3G network by $80 million. But the company's executives also said Leap is considering "all options," including potentially seeking a buyer for the company.
"From the strategy perspective, I wouldn't eliminate anything right now from what we're thinking about," said Jerry Elliott, Leap's chief financial officer, on an investor call Monday. "We're going to be taking a lot of steps to control our own destiny and run the business far more profitably. And hopefully, that results in value creation."
Analysts were skeptical of the possibility of a Leap rebound. Greg Miller, an analyst at Canaccord Genuity, said Tuesday that Leap's prospects for survival are "more uncertain than ever," and investment in the company is "dead money at best."
Shares of pre-paid competitor MetroPCS (PCS, Fortune 500) fell just 1% Tuesday.