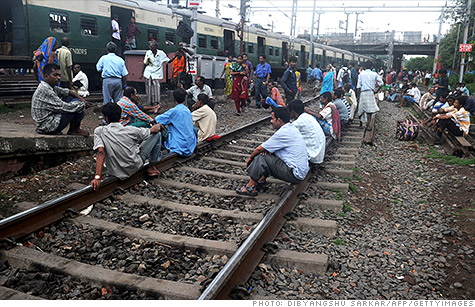 Passengers sit on a railroad track in India waiting for power to return after a massive blackout in late July. Could a serious outage hit the U.S. too if the electrical grid isn't updated?
John J. Licata is the founder and chief energy strategist for Blue Phoenix Inc., an independent research and consulting company focused on clean energy.
I really enjoy the summertime. Yet I'm worried.
Another heat wave is forecast to blanket much of the United States this week. We already have a drought to deal with. Could a power outage like the recent ones in India be next here if temperatures don't cool off? The answer is a resounding yes.
So rather than wait for another big blackout like the one in the Northeast nearly eight years ago, we need to put a big emphasis on fixing our country's "ancient" power grid.
The U.S. needs to focus on energy storage -- which would help tremendously if power consumption is strained. It's great to talk about solar and wind power but these are intermittent sources of power without true storage. We are losing much of the power these alternative sources are really providing.
We need to develop more advanced and cost-effective battery technologies to help store power. We also need to implement management systems which allow power to be consumed "on-demand" to best utilize renewable energy sources, especially during times of peak-energy use.
But instead of making storage for alternative energy sources a top priority, Congress is considering letting the wind production tax credit expire at the end of the year.
This would be a major mistake since it will cause the loss of tens of thousands of jobs and lead us to further squeeze power from what is already "a grid not made for scale distribution" according to Peter Torrellas, chief technology adviser of Siemens (SI).
Still, making the power grid "smarter" will not just come about by improving physical infrastructure.
Consumers will need to change their energy consumption habits as well. The U.S. can make progress by opening up the spigot on new technologies which can help consumers better gauge their power usage -- as well as the cost of running their home appliances, charging their iPads and even electric vehicles parked in the garage.
The increased adoption of electric vehicles could actually be key to help alleviating strains on the grid. This could start with so-called vehicle-to-grid technology.
Businesses that own large fleets of vehicles could use intelligent software which would allow charged electric cars and trucks to actually feed power back to the grid when they are not in use. In essence, business owners could have idle trucks return power to the grid in exchange for electricity rebates from utilities. This same technology could make its way to consumers in the future too.
I'd be remiss not to mention the need for the U.S. to guard its power grid from technology hacking as well. For those that believe hacking is impossible, Iran's nuclear facilities recently suffered a cyber attack that took down computers while AC/DC's "Thunderstruck" played loudly on computers on site.
Stuxnet, a malicious software program that was used a few years back against another Iranian nuclear target, could be reworked today to threaten our power targets from cyber space.
The events in Iran should be a strong wake-up call to the North American Electric Reliability Corp. and the Federal Energy Regulatory Commission to strengthen and enforce security standards surrounding critical power generators and important cyber assets in order to avoid unwanted power disruptions.
The U.S. undoubtedly needs to make the smart grid more of a focus heading into the November elections. In fact, we should be taking some cues right now from the recent events in India.
A major power outage is possible in the U.S. and that could wreak havoc on our already fragile economy. We need to remember that we can't remain a superpower if our lights aren't on.