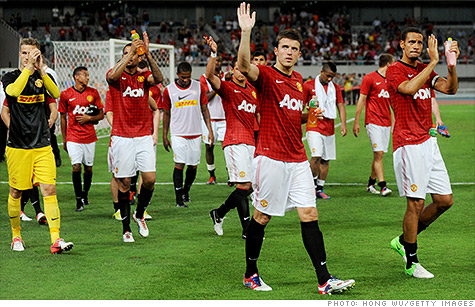 Manchester United is now valued at about $2.3 billion after its IPO.
NEW YORK (CNNMoney) -- Manchester United and a shareholder who is selling off a stake in the company raised $233 million through an initial public offering that priced after Thursday's closing bell.
The 134-year-old storied British football (soccer) team sold 16.6 million shares at $14 apiece -- below its estimated range of $16 to $20 a shareManchester United and its main shareholder, the billionaire Glazer family, sold 16.6 million shares, which raised $233 million.
The IPO gives the Red Devils, as the club is known, a market value of around $2.3 billion.
The team's proceeds will be used to help pay down its debt, which totaled £423.3 million, or about $662 million, as of March 31.
Only about half the shares are being sold by the club.
The other half are being sold by the Glazer family, the American owners of the NFL's Tampa Bay Buccaneers who bought ManU for $1.47 billion in a debt-financed takeover battle in 2005.
The deal's underwriters have the option to buy an additional 2.5 million of the Glazer family's shares.
Manchester United (MANU) is set to debut on the New York Stock Exchange (NYX) Friday morning under the ticker "MANU".
Investment researchers at Morningstar expected the club would fail to meet its pricing goal.
Morningstar noted Thursday that despite the team's iconic brand and loyal fans, "the unpredictable nature of sports" will likely undercut Manchester United's ability to provide investors profits consistently.
-- CNNMoney's Chris Isidore contributed to this report.