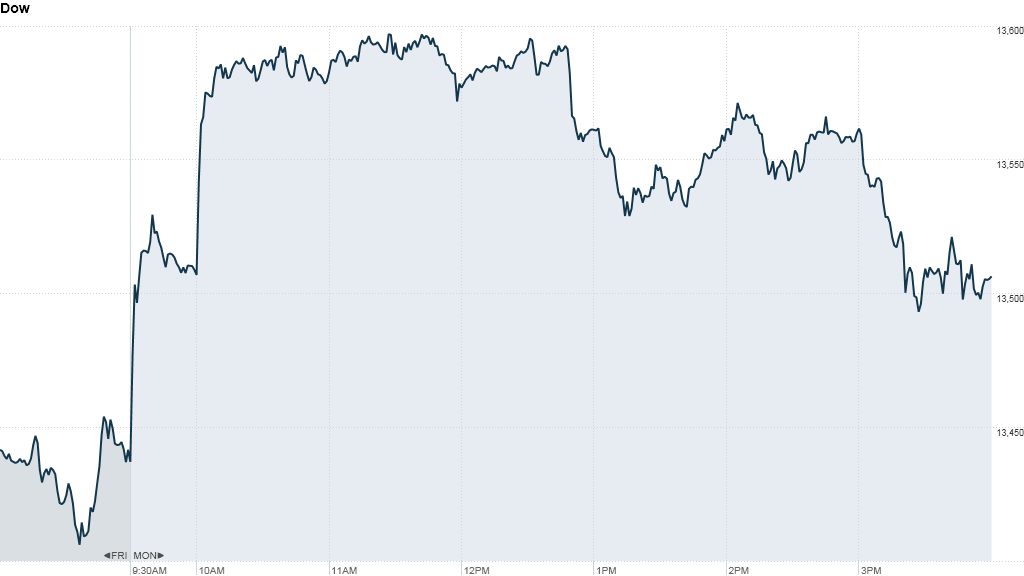 A rally on Wall Street lost steam Monday afternoon following comments from Federal Reserve chairman Ben Bernanke.
The major indexes initially jumped about 1% after a stronger-than-expected report on U.S. manufacturing, but pulled back from the day's highs as Bernanke defended the central bank's latest stimulus action.
The Fed chief said the economy "simply has not been growing fast enough recently to make significant progress in bringing down unemployment." The unemployment rate has been stuck just above 8% since the start of the year.
Bernanke also pressed Congress to address the so-called fiscal cliff -- the onset of higher taxes and reduced spending at the beginning of 2013. Without action from lawmakers, the fiscal cliff could throw the economy back into recession.
The Dow Jones industrial average finished the day up 0.6%. The S&P 500 rose 0.3% while the Nasdaq fell slightly.
Financial stocks closed solidly higher. Shares of Goldman Sachs (GS) were up almost 3%, while Bank of America (BAC) and JPMorgan Chase (JPM) rose almost 1.5%.
Earlier in the day, the Institute for Supply Management's manufacturing index, a survey of purchasing managers, came in at 51.5 for September, marking the first expansion in the U.S. manufacturing sector in four months.
The report boosted hopes that "some of the recent slowdown in economic growth was just a summer phenomenon," said Paul Dales, senior U.S. economist at Capital Economics.
Wall Street took also took early cues from European markets, which rallied after Spain passed two major hurdles last week when it proposed its 2013 budget and results from bank stress tests were in line with expectations. Britain's FTSE 100 added 1.4%, the DAX in Germany advanced 1.5% and France's CAC 40 increased 2.4%.
A report on eurozone manufacturing showed continued contraction, but the 46.1 figure for September was a six-month high. Any reading below 50 signals contraction. Still, unemployment remains worrisome, with the region's jobless rate coming in at a record high of 11.4% in August, unchanged from the previous month's revised figure.
In Asia, Japan's Nikkei declined 0.8% after a central bank survey showed business sentiment has fallen. Markets in Shanghai and Hong Kong were closed for a holiday. A report on manufacturing activity in China rose to 49.8 in September, up from 49.2 in the prior month.
Related: Individual investors miss the rally again
All eyes will be on the labor market this week, with figures about private sector job growth from paycheck processing firm ADP and weekly initial jobless claims setting the stage for Friday's monthly jobs report from the Labor Department.
U.S. stocks ended the third quarter on a weak note Friday. But year to date, all three major indexes have put in a stellar performance, with the Dow Jones industrial average, S&P 500 and Nasdaq Composite up between 10% to 20%.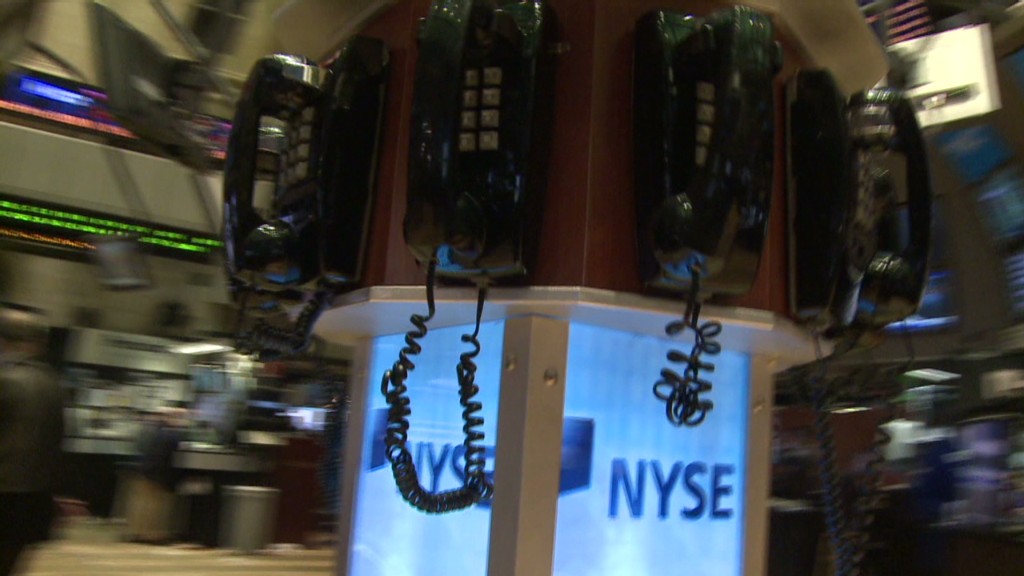 Companies: Shares of Netflix (NFLX) rose 3% after Whitney Tilson, a well-known hedge fund manager, said that the company is due for an Amazon (AMZN) style ride over the next decade. Speaking at the Value Investing Congress in New York Monday, Tilson also made a case for Berkshire Hathaway (BRKA), which he also touted at last year's conference.
Shares of Ceradyne (CRDN) surged 43% after 3M (MMM) announced it would buy the ceramic components maker for $860 million.
Nokia (NOK) shares gained ground on news the mobile phone maker signed a mapping service deal with Oracle (ORCL).
The prospects for a huge merger in the international mining industry looked brighter, after Xstrata's (XSRAF) board of directors said it was backing a revised offer from Glencore International (GLCNF). The deal was first proposed in February, but had been delayed by shareholder objections.
Related: China manufacturing slump drags on
Currencies and commodities: The dollar weakened against the euro, but rose versus the British pound and the Japanese yen.
Oil for November delivery rose 29 cents to settle at $92.48 a barrel.
Gold futures for December delivery gained $9.40 to settle at $1,783.40 an ounce.
Bonds: The price on the benchmark 10-year U.S. Treasury rose, pushing the yield down to 1.62% from 1.64% late Friday.