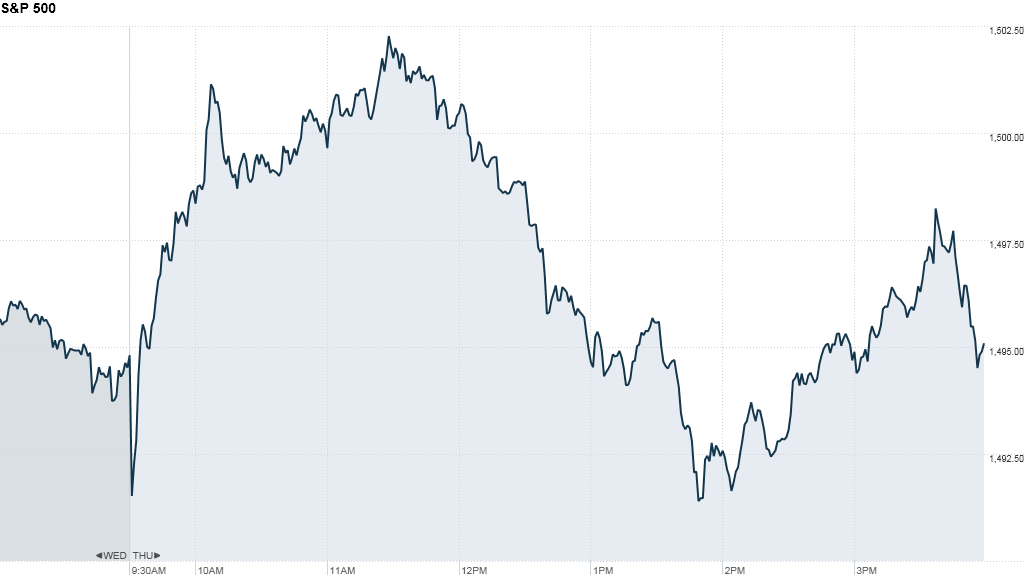 U.S. stocks closed mixed Thursday, with shares of Apple weighing on the Nasdaq, as investors focused on the latest corporate results and economic data.
After briefly rising above 1,500 for the first time since late 2007, the S&P 500 ended right near where it opened. The Dow Jones industrial average gained 0.3%. The Nasdaq was down 0.7%, pulled lower by Apple.
Apple (AAPL) shares closed down more than 12% after the company said sales in the current quarter would come in below analysts' expectations, even though earnings in the most recent quarter rose to a record $13.1 billion.
The stock has lost more than 35% of its value since hitting an all-time high in September amid worries demand for the iPhone may be waning as lower-cost smartphones gain market share.
Related: Apple stock bubble continues to deflate
"Apple is certainly weighing on the Nasdaq," said Ryan Larson, a senior equity trader at RBC Global Asset Management. "But investors are more focused on earnings now that the House has extended the debt ceiling to mid-May."
House lawmakers on Wednesday passed the "No Budget, No Pay Act," defusing the debt ceiling threat for a few months. The bill allows the Treasury Department borrow new money until mid-May, while also requiring Congress to pass a budget resolution or have their pay withheld until they do.
Investors also welcomed better-than-expected reports on manufacturing in China and Europe. A preliminary reading of purchasing managers' sentiment in China rose in January to its highest level in two years. The eurozone purchasing managers index increased for a third consecutive month, hitting a 10-month high in January, according to "flash" estimates from Markit.
Shares of Nokia (NOK) slumped after the company said its board will propose that no dividend payments be made for 2012. The Finnish phone maker reported fourth-quarter earnings were unchanged from last year at 6 cents per share.
Xerox (XRX) shares rose after the company reported results that were in line with expectations.
After the bell, Microsoft (MSFT) reported earnings that beat analysts' predictions for its profit but missed on revenue.
AT&T (T) managed to beat expectations on revenue but missed on profit. Starbuck (SBUX)s profits were in line with analyst estimates, but shares of the coffee chain dropped in after hours trading.
Related: Fear & Greed Index deep in extreme greed
Overall, S&P 500 companies are expected to report earnings growth of 4.3% for the last three months of 2012, according to S&P Capital IQ. Of the 112 companies that have reported so far, 75 have beat analysts' expectations.
In economic news, the government said first-time claims for unemployment benefits fell by 5,000 last week to 330,000. The Conference Board said its index of leading economic indicators rose 0.5% in December, raising hopes for a sustained rebound in U.S. economic growth.
The mood was gloomy in Davos, where business and political leaders gathered for the World Economic Forum. The International Monetary Fund lowered its outlook Wednesday for economic growth in the euro area, and urged U.S. policymakers to address long-term debt issues.
President Obama will nominate Mary Jo White, a former federal prosecutor in New York, to head the Securities and Exchange Commission, an administration official told CNN.
Related: Japan spurs talk of currency war
Asian markets ended mixed. Stocks in Hong Kong and Shanghai fell, while the Nikkei rallied 1.3%. Japan reported a trade deficit of ¥6.9 trillion for 2012, compared with ¥2.5 trillion in 2011. The nation has logged deficits for the past six months as imports have outpaced exports, but analysts said exports could ramp up in 2013 as Tokyo moves to boost the economy.
The yen plunged 1.5% versus the U.S. dollar, reversing gains from earlier this week.
European markets ended higher. The FTSE 100 in London rose 1%, while Germany's DAX rose 0.5% and the CAC 40 in Paris rose 0.7%.
In the commodities market, oil prices moved higher, while gold prices slid. The yield on the 10-year Treasury note rose to 1.86% as prices fell.