U.S. stocks shaved most of their early losses but still finished in the red Monday afternoon as worries about the Fed easing up on stimulus and credit problems in China kept investors on edge.
The Dow Jones industrial average dropped 140 points, or 0.9%, while the S&P 500 and Nasdaq lost more than 1% each. Earlier in the day, all three indexes were down between 1.5% and 2%.
Bond yields also eased back from earlier levels. The 10-year yield finished the day at 2.56% after rising to a 22-month high of 2.65%.
The stock and bond volatility came as Fed officials tried to quell concerns about the eventual end of the central bank's bond-buying program.
In an interview with the Financial Times, Dallas Federal Reserve president Richard Fisher reiterated that the central bank would not begin pulling back until "conditions were right," as they don't want to go from "Wild Turkey to 'Cold Turkey' overnight."
Related: Sell-off is a 'taper tantrum'
He said that the committee "fully understood" that there would be a significant reaction but warned big players in the financial markets against acting like "feral hogs" and testing the Fed.
The Fed's stimulus program has been a major driver of the bull market, and worries over its longevity will likely keep generating volatility in the months ahead.
The CBOE Market Volatility Index (VIX), a measure of fear, jumped above 21 to its highest level of the year before easing back slightly. And the CNNMoney Fear & Greed Index dropped further into Extreme Fear, clocking in at its lowest level since June 2012.
Click here for more on stocks, bond, commodities and currencies
Credit crunch in China? The People's Bank of China told the country's largest banks Monday to rein in risky loans and improve their balance sheets, a warning that sent a jolt through already unsettled equity markets.
The Shanghai Composite index was hardest hit by the announcement, registering a decline of 5.3%. The Hang Seng in Hong Kong lost nearly 3%. Japan's Nikkei index declined by 1.3%.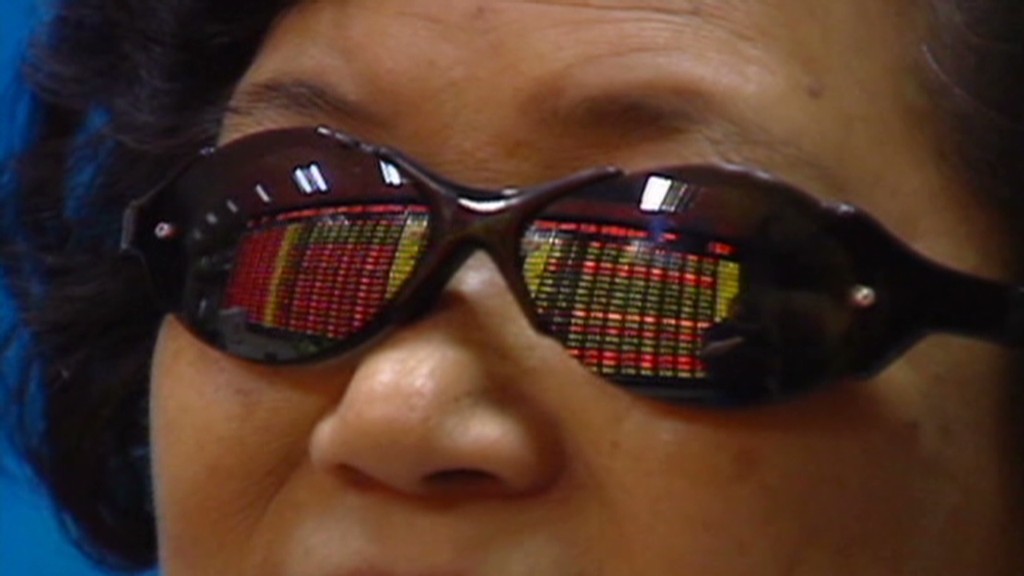 The sell-off comes after short-term borrowing costs skyrocketed last week in China, leading to fears about a credit crunch. The rate at which Chinese banks lend to each other overnight hit, which serves as a measure of liquidity in the financial markets, hit a record high above 13% last week before moderating. Another key measure of cash in the banking system -- the 7-day "repo rate" -- peaked at 25%.
Investors are worried that less liquidity in the world's second-largest economy could further slow the shaky global recovery.
Related: Brazilian stocks among world's worst performers
Stocks by the numbers: With the recent heavy selling, all three indexes are down about 6% from their recent highs.
But they're still holding onto healthy gains year-to-date. The Dow, S&P 500 and Nasdaq are up between 10% and 12% since the start of January.
Stocks on the move: Shares of Vanguard Health Systems (VHS) surged almost 70% after inking a $1.8 billion acquisition deal with Tenet Healthcare Corp. (THC)
Apple (AAPL) shares briefly fell below $400 a piece for the first time since mid-April after Jefferies' Peter Misek lowered his 12-month price target to $405 from $420.