Scion set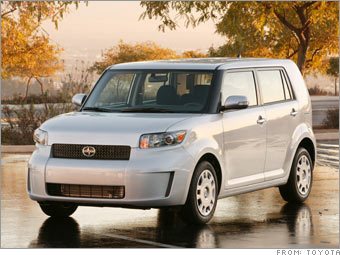 Toyota says that it asked previous-generation xB owners what their cars lacked, and gave it to them in the new 2008 model. I disagree - from the looks of it, Toyota's R&D department did some research and figured out what made the original xB such a huge success. And then got rid of it.
Okay, that's a bit harsh - but what I (and buyers) loved so much about the xB was its anime-quality toughness at two-thirds scale. Unlike the slow-selling xA, the xB never looked modern, it never looked soft, and it certainly never looked bubbly. The new one tries to look all three of those, and ends up losing all of the original's charm.
But, I digress. It's not all bad. The 2008 xB rides on an all-new platform, and is numerically better in every way: It's twelve inches longer, three inches wider, and rides on a wheelbase that's four inches longer. Its rear discs are two inches larger. It holds eight cubic feet more stuff. And the best news is that the underpowered 1.5-liter four has been replaced by the tC's 158-hp 2.4-liter, solving my biggest complaint about the old model.
The new xB goes on sale late spring and rides on sixteen-inch wheels. Transmission choices are a five-speed manual or four-speed manu-matic. There are no options, and all xBs come standard with power everything, loads of safety equipment, and an iPod jack that enables the audio system to display song titles on its display.
So on paper the new xB is better in every way. It's bigger and comes with a 53 percent increase in horsepower. It's too bad that it's met with a similar decrease in coolness.
Posted by Jason Camissa, Automobile Magazine
1:21 PM
6 Comments

|
Add a Comment
---
Scion's original plan was to market fun, economical cars to younger car buyers. Their pricing, sales strategy, and "menu" options packages are all designed with the young buyer in mind...

So why is it that it looks like they are trying to appease an older generation with these cars? Both the redesigned xB and the xD seem much more like something my mom would drive than their predecessors. This doesn't strike me as a smart move

---
I do hope when my eminently practical little milk truck expires and needs replacement Toyota will have gained some insight as to why the original design was so popular.

---
The original xB was based on the Japanese version which is called the "bB". This past spring, Toyota in Japan replaced the bB with a new generation which I had hoped would come to America. I'm sorry to say but I think Toyota of America blew it with the model they reviewed at the Chicago Auto Show. The Japanese version can be viewed here: http://toyota.jp/bb/index.html

---
Personally, I think the xB doesn't appeal to the younger generation at all. I am middle-aged and purchased one in 2005, since them, other family members have also purchased one - same age. In fact, around here, we've seen almost no young people driving them. My 18 year old niece hates the thing - thinks it's ugly and is embarrassed to drive it. But the car is perfect for people our age - roomie inside, easy step up to get in, the right price for what we consider a lot of car. We plan on purchasing our second one this spring.

---
I'm the owner of a 2005 xB and I love the look of the new 2008. I'm waiting now to hear how much they'll be. They were priced great in 2005. Will they outprice me for 2008?

---
I own a 2006 1/2 XB- I sure my compliants mimic everyone else who owns this car- it needs 20 more horsepower and a 5 speed auto or 6 speed manual- Scion could have done this plus add a few gauges to the dash and rear disc brakes. Massage the front and back alittle and that's it.

The new xb- really a TC wagon- is nothing like the current model. The easiest solution would have been to call itsomething other than the xB. The xB is dead and something else will fill the void- Nissan Cube, Smart car... I really think Scion missed on this one. The "new" xB offers nothing unique- it is big and looks very boring- the xb was the only car that evoked forward thinking from Scion- they no longer have such a car.

---