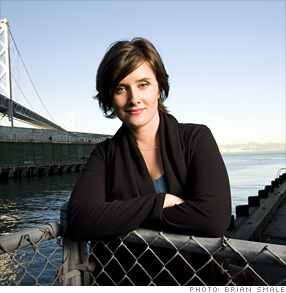 "I'm trying to make sure that sustainability is not just a line item." -Valerie Casey
Leader, Digital Experiences Practice, IDEO; founder, the Designers Accord, Palo Alto
Big Idea: A Kyoto Protocol for designers
Clients: AT&T, Samsung, Dell, Virgin
Inside design powerhouse IDEO, where she's working on next-generation mobile products for AT&T, Casey is the expert on all things digital. But around the world she's fast becoming a leader of the green-design movement. Two years ago she decided to act on her realization that a beautiful keyboard or mobile phone is still an object that creates waste.
To get designers - and their clients - to think about sustainability before, not after, they create, Casey, 36, wrote the
Designers Accord,
a set of guidelines that commits its signatories to support sustainable design and requires them to track their own carbon footprint. It struck a chord: More than 100,000 people and organizations - including Johnson & Johnson Consumer Products, and Autodesk - have signed on.
NEXT: Don Sull
Last updated November 13 2008: 7:28 AM ET
Email
|
Print
|

Digg this story
|
RSS