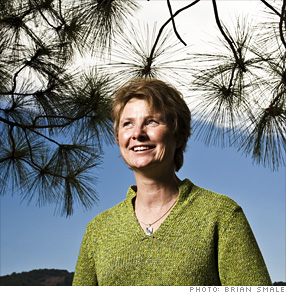 "We are creating a way for biological ideas to get into human designs."-Janine Benyus
Co-founder, Biomimicry Guild and Institute, Helena, Mont.
Big Idea: Innovate by imitating, or "mimicking" nature.
Clients: Boeing, GE, Herman Miller, Kraft Foods
After Benyus published her 1997 book, "Biomimicry," businesses in search of sustainable practices started calling. The 50-year-old biologist - whose breakthrough concept is to apply nature's best solutions to modern-day problems - now helps organizations invent eco-friendly products and processes.
For Nike, it resulted in the creation of a swimsuit based on shark's skin. To help a $1 billion carpet-tile manufacturer reduce waste, Benyus's team turned to the forest floor for inspiration and designed a line of tiles inspired by the randomness of fallen leaves. They also studied geckos and beetles to find a better form of adhesive products.
Up next? Her institute is partnering with architectural powerhouse HOK to design international building projects that imitate ecosystems.
NEXT: Dan Ariely
Last updated November 13 2008: 7:28 AM ET
Email
|
Print
|

Digg this story
|
RSS