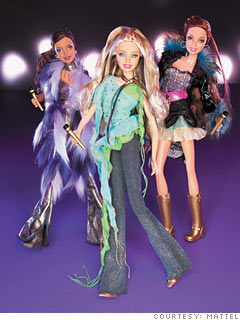 "American Idol" Barbie, 2005
The $3 billion Barbie brand has suffered in the last decade, with sales plunging 28% from their peak of $1.52 billion in 2002, according to Needham & Co. analyst Sean McGowan.
Dickson attributes some of Barbie's recent fall from grace to Mattel's willingness to accommodate retailers like Wal-Mart and Target with customized products for their stores. "We were like Burger King," Dickson says. If retailers wanted their Barbie in a purple dress or gold lamé, Mattel made it their way.
Dickson plans to end that tradition, hoping that producing fewer, higher quality Barbie dolls will result in a surge in doll sales. And Mattel is taking the strategy seriously: The company's most recent quarterly report names its current priority as enhancing "innovation in order to reinvigorate the Barbie brand."
NEXT: Barbie breaks the mold