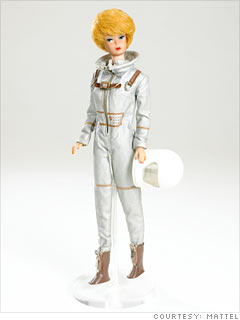 Barbie's always kept up with the latest fashion trends, but she's also been known to reflect -- or anticipate -- major current events. From fighting on the front lines to running for the Oval Office, dolls like "Army Ranger" Barbie and "Presidential Candidate" Barbie have mirrored America's cultural evolution.
"Looking at different Barbie dolls through the years was like looking at
Life
magazine," Dickson says. "The dolls told the story of the moment."
That was certainly the case for "Astronaut" Barbie, released in 1965, and "Olympic Downhill Skier" Barbie, who debuted a decade later -- just before Dorothy Hamill took the gold in women's figure skating in the 1976 Winter Olympics. And almost 15 years after that, as children's rights become an international cause, Barbie made yet another ambitious move, becoming a UNICEF Ambassador.
NEXT: Breaking the plastic ceiling