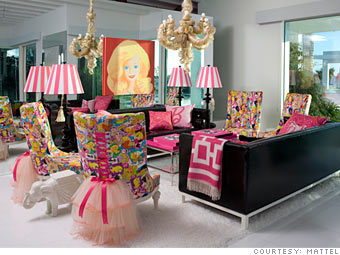 Barbie's 50th anniversary has been a chance to "put Barbie back on the cultural map of coolness," says Dickson. And with high-profile competition from the Bratz dolls and others hot on her heels -- according to Needham analyst McGowan, Barbie's market share has fallen from 80% in 2000 to less than 50% today -- that's crucial.
Drawing on his experience in posts at Bloomingdale's and Estée Lauder, Dickson has approached Barbie as a high-fashion label. For her birthday in the spring, Dickson hosted a runway show at New York Fashion Week and hired interior designer Jonathan Adler to create a life-size Malibu Dream House (shown), where Dickson threw Barbie a birthday bash with A-list celebrities.
The campaign has already had an effect: Barbie's domestic gross sales increased by 18% compared to last year, which analysts say could signal a turnaround for the brand. So much for a midlife crisis.
NEXT