Many big companies have managed to emerge from Chapter 11, but it's a lot harder to bounce back from a second bust...or a third.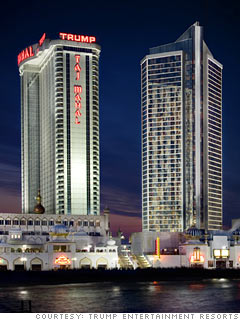 Will the third time be a charm for this beleaguered gambling chain? Trump Entertainment Resorts, which owns three casinos in Atlantic City, N.J., filed its third bankruptcy -- known in legal circles as a "Chapter 33" -- in February.
Donald Trump, who no longer runs the company, forged a deal in August to buy it back for $100 million, vowing to make the casinos thrive again.
But the deck is stacked against him: "I can't think of one company that has gone through bankruptcy three times and is still around," says Kevin Lavin, a senior managing director at FTI javascript:controllerDisplay.editSlide(1,2);Consulting.
NEXT: US Airways - Two times