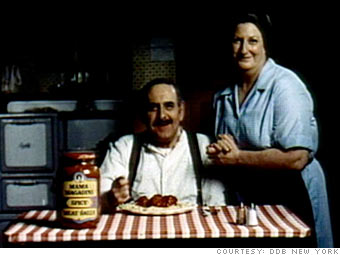 Company: Alka Seltzer
Ad agency: DDB
In the 1960s, Alka Seltzer began to drop the jingle and cartoon pitchman from its television advertisements, focusing instead on clever narrative commercials. This "Spicy Meatball" spot with an Italian couple -- along with other famous Alka Seltzer ads, like its 1960s pie-eating contest commercial featuring heavyset men -- showed average Americans using Alka Seltzer to get through the day.
It was product demonstration in a way that consumers had never seen before -- and it was hugely entertaining. The consumer didn't necessarily feel like they were being pitched, but the message was loud and clear.
"Spicy Meatball" also helped popularize the idea of filming a commercial within a commercial, moving the television industry one step closer to the reality TV of today.
NEXT: "Gorilla" - 1970