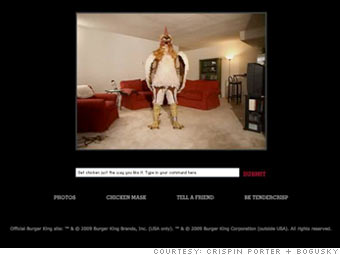 Company: Burger King
Ad agency: Crispin Porter + Bogusky
This Internet promotion for Burger King played into the chain's theme -- albeit with a strange twist -- of letting customers have it their way. Users could issue commands online to a man dressed in a chicken suit and have him do just about anything, from barking like a dog to mopping the floor.
"Subservient Chicken" is often cited as a catalyst in spurring Internet campaigns to the cutting edge of the advertising industry, forcing firms to take notice of the Internet's potential.
The ad won multiple awards in 2005, and that year CP+B was named Agency of the Year at the CLIO Awards. Go ahead and
give the chicken an order
; you may find it strangely satisfying.
NEXT: "Obama Hope" - 2008