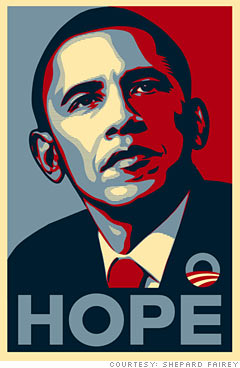 Created by: Shepard Fairey
Shepard Fairey is known more as an offbeat artist than a political activist. That said, his 2008 "Hope" poster, along with other Internet and television ads, epitomized the grass roots following that swept Barack Obama into the White House.
Created in early January 2008, long before Obama won the Democratic nomination, this poster was disseminated by Fairey in the streets and online, and supporters say his artwork changed the course of the current political dialogue by showing how citizens could engage in the campaign process.
Fairey's rendering of Obama veered sharply from the standard political posters -- which often feature a photo of the candidate and accents like an American flag or a soft blue background -- and so penetrated the national psyche that he was even asked to do an illustration of Obama for the cover of
Time
magazine.
More galleries