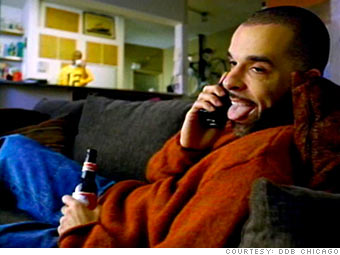 Company: Anheuser-Busch
Ad agency: DDB
Budweiser's 1999 "Whassup" campaign quickly became part of the national lexicon, and it still has the ability to reduce grown men to laughing fits. The ad, created by DDB, ditched the storyline model and took the diorama route instead, showcasing a parody of men's natural habitat complete with "the game" and the guys.
The ad gained global traction online and won the Grand Prix at the Cannes Lions International Advertising Festival in 2000, where the audience yelled "Whassup!" during the presentation.
In 2008, the "Whassup" actors independently reprised their roles to create their own promotional spot for presidential candidate Barack Obama. It was a hit online, creating a new wave of appreciation for the original 1999 Budweiser ad.
NEXT: "Subservient Chicken" - 2004