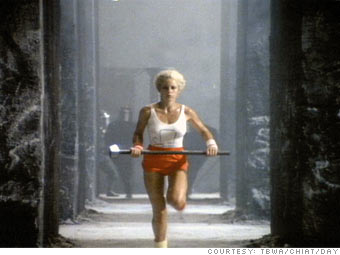 Company: Apple
Ad agency: Chiat/Day
This "1984" Apple spot introducing the Macintosh computer forever raised the bar for Super Bowl advertising.
The 60-second commercial -- created by Chiat/Day and directed by Oscar-nominated director Ridley Scott -- was rumored to have racked up almost $400,000 in production costs. Scott's vision of George Orwell's "1984," on which the commercial is based, is strongly reminiscent of his own 1982 film "Blade Runner," from the dark, fog-filled buildings to the beautiful heroine.
The ad also gained attention as one of the first that didn't show the actual product, playing instead on public fears about corporate control through the mysterious "Big Brother." Media outlets even posited at the time that the ad's blue hues were meant to evoke IBM as the villain.
NEXT: "Just Do It" - 1988