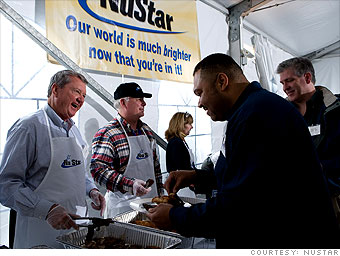 NuStar Energy, a pipeline and logistics company, offers employees a combined plan, but the pension pulls most of the weight.
That's especially notable since NuStar is a young company -- it opened for business in 2001, long after most companies began ditching their defined-benefit plans in favor of individual savings accounts.
NuStar's pension gives retirees their full salary for one-and-a-half times their years of service: work 20 years and get 30 years' worth of your full pay, assuming you haven't retired early. That's in addition to dollar-for-dollar 401(k) matching, up to 6% of pay, and a $1,000-deductible medical plan.
Human resources director Bill Grimes says the rich benefits have helped the startup lure talent from more established companies.
NEXT: Weyerhaeuser