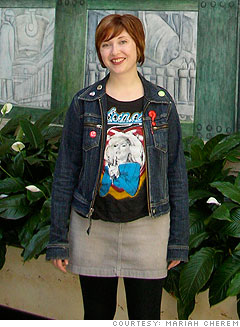 Mariah Cherem, the community manager at Yelp.com, in front of Diego Rivera's "Detroit Industry" mural at the
Detroit Institute of Art
.
Lived in Detroit: My whole life
I feel peaceful here because it's a place I've come back to at many different points in my life. And yet, something about it makes me feel like a little kid seeing things for the first time.
Visitors are surrounded, engulfed, by a mural that tells the story of the auto industry. It makes you feel like you're out there in the field, watching people work on the assembly line with steel and iron. The colors are brighter than one might expect for such an industrial subject, and the painting's energy just jumps off the wall.
Why I love Detroit: I've lived in greater Metro Detroit my whole life, and many people ask why I choose to stay here. My simplest answer: I have a lot of pride in being from Midwest. Things happen here in a way they couldn't in coastal cities. There's a strong sense of community; not in a Pollyanna way, but something very real and tangible.
Detroit residents are creative, resilient and hard-working. People help each other - not out of pity, but from a shared sense of opportunity. It may be easier for people outside the city to see the negatives, but there's a tremendous positive change sweeping Detroit.

NEXT: Barb House