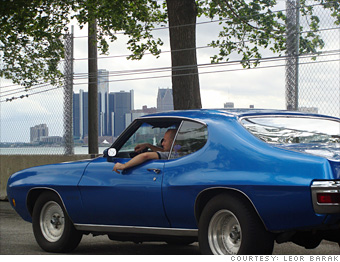 Leor Barak, a pro-bono project manager for a Detroit nonprofit, drives his 1971 Pontiac GTO on
Belle Isle
.
Lived in Detroit: My whole life
I have a true Detroit treasure right across from my house. Belle Isle is an island park in the Detroit River, and while the entire thing is great, I especially love the southwestern section. If you look west at sunset, you see the city bathed in light. It's breathtaking. I go at least twice a week, sometimes with friends for picnics or alone for a quiet night.
Belle Isle represents this city's past, present and future. It's both the decay of the past and the vibrancy of the future. That potential is what keeps me in Detroit.
Why I love Detroit: We have a lot of challenges here, but people are taking advantage of what we have.
I think alternative land use is going to be a big part our future. People are using open spaces for urban farming, greenways and tree farms right in the middle of the city. It shows how we can use what we have and make something that's not only new, but also beautiful and useful. This city has a lot to give.

NEXT: Austin Black II