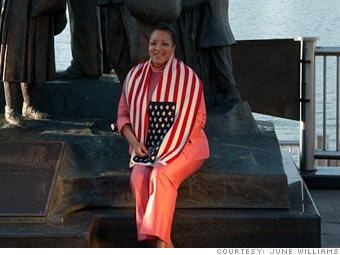 June Williams, publisher of InspireME Magazine, sits by the Detroit River.
Lived in Detroit: 8 years
Favorite spot: Looking at Canada from the riverfront
Detroit is a global city. I know of very few cities where you can look across the river and see another country.
I especially love to look at Canada from the riverfront, a really vibrant area with festivals and activities. I'm still amazed when I look across the water and I remember Detroit's strong global presence.
As a writer, it's interesting for me to see the city as someone unrelated to the auto industry. All we hear about is the Big Three and layoffs. When everything you hear on the news is about the failing auto industry, bankruptcy, bailouts...well, it's accurate but overshadows all the good we have in Detroit.
Why I love Detroit: I love the people here. We understand the power of persevering through challenge together. When you've been downsized, outsourced or kicked out the door, you need to be creative and pursue your passion.
Detroit is an underdog, and I think that will make it a blockbuster city. There's an inordinate amount of talent here. I wish people would get to know the city for its creativity, not its crime statistics.

NEXT: Margaret Thomas