Prices in cities that attract retirees rose the furthest during the boom - and fell the hardest. Here's a look at five top markets.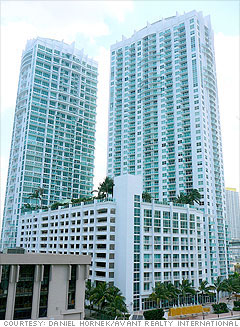 Price:
$629,000
The price of this 43rd floor penthouse, which offers views of the Intracoastal Waterway, dropped $170,000 last year. But experts are finally whispering about a bottom in Miami's real estate market: Single-family home prices declined 29% year over year, while condos dipped 51%.
That's making Southeast Florida a buyer's playground. Condo sales are up 70% this year as vultures move into prime areas like Brickell Avenue.
NEXT: Miami: Surfside
Last updated June 12 2009: 9:45 AM ET
Source: Source: S&P/Case-Shiller Home Price Index