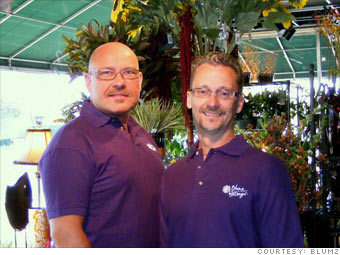 Blumz co-owners Jerome Raska and Robbin Yelverton
Blumz by JRDesigns
Retail shops in Detroit and Ferndale, Mich.
Flowers can lift the spirit - but during tough times, they're one of the first expenses to land on the chopping block.
At floral shop Blumz by JRDesigns, orders for weddings and funerals have held steady, but corporate sales are way down. About half of Blumz' clients cancelled or scaled back their holiday parties this year, knocking the company's revenue for the quarter down at least 25%.
"It wasn't that the money wasn't there, it's that they thought it was inappropriate," says co-owner Robbin Yelverton, whose company has 15 employees.
Corporate orders stayed slow in January. The company has in the past worked with exhibitors at Detroit's big North American International Auto Show, but many of those clients toned down their displays or pulled out of the show this year.
Blumz has coped by cutting its overhead and spending. Late last year, two staff members were laid off. The company is also keeping less stock on hand and placing smaller orders to reduce its losses on flowers that go bad.
Despite having to make some tough decisions, Yelverton says he and co-owner Jerome Raska are choosing to focus on the positive aspects of Michigan's economy. New hotels that have opened in downtown Detroit during the past few years and a growing film-production industry, helped by new state tax incentives for for moviemakers, present Blumz with new market opportunities.
In time, Yelverton believes the new businesses will begin to replace the automotive jobs leaving the state, helping Michigan rebuild its economy.
"The auto industry took years and years to grow. It didn't happen overnight," Yelverton says. "And with these new industries, it will take a while for them to take up the slack."

NEXT: No more visiting auto execs